Lemon Bar Cupcakes!
I posted this in
picturing_food
, but then I found this community so I had to post here, too! I love baking the best!
All day yesterday I was craving lemon bars and cupcakes, so today I tried my hand at making Lemon Bar Cupcakes. :D The bottom half is a shortbread base and lemon bar topping, and the top half is lemon-flavored cake. Topped with lemon cream cheese frosting, of course!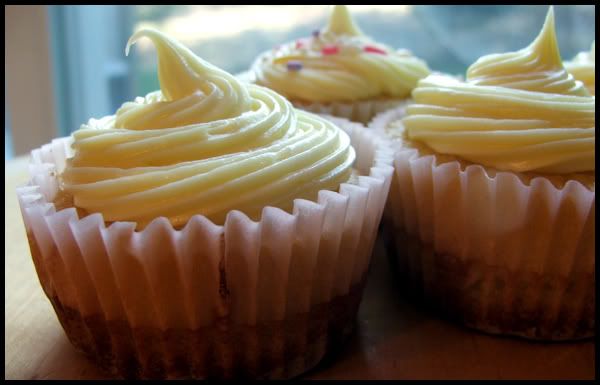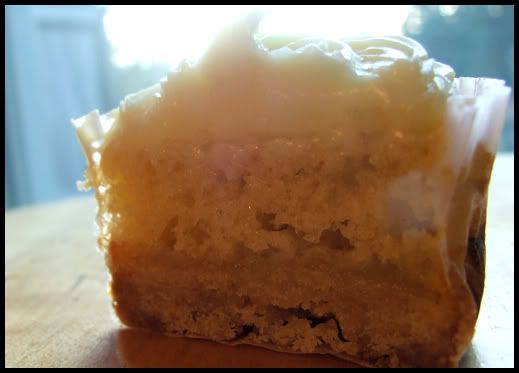 They turned out pretty well!
I used three recipes, and just kind of winged the frosting. The Shortbread Base and Lemon Bar Topping are from Epicurious.Com, and the Basic Cupcake recipe is a modified Magnolia Bakery one from
this
blog.
Shortbread Base
1 1/2 sticks (3/4 cup) unsalted butter
2 cups all-purpose flour
1/2 cup packed light brown sugar
1/2 teaspoon salt
1. Preheat oven to 350F.
2. Cut butter into 1/2-inch pieces. In a food processor process all ingredients until mixture begins to form small lumps. Sprinkle mixture into a 13x9x2-inch baking pan and with a metal spatula press evenly onto bottom. Bake shortbread in middle of oven until golden, about 20 minutes. While shortbread is baking, prepare topping.
Lemon Bars (Topping)
4 large eggs
1 1/2 cups granulated sugar
3/4 cup fresh lemon juice
1/3 cup all-purpose flour
Hot Shortbread Base
3 tablespoons confectioners' sugar
1. Preheat oven to 350F.
2. In a bowl, whisk together eggs and granulated sugar until combined well and stir in lemon juice and flour. Pour lemon mixture over hot shortbread. Reduce oven temperature to 300F and bake confection in middle of oven until set, about 30 minutes. Cool completely in pan and cut into 24 bars. Bar cookies keep, covered and chilled, 3 days. Sift confectioners' sugar over bars before serving.
Basic Cupcakes
1 cup (2 sticks) unsalted butter, room temperature
2 cups sugar
4 large eggs, room temperature
2 3/4 cups all-purpose flour
1 teaspoon baking powder
1 teaspoon baking soda
1/8 teaspoon salt
1 cup milk
1 teaspoon vanilla
1. Preheat oven to 350F.
2. Beat butter on high until soft, about 30 seconds.
3. Add sugar. Beat on medium-high until light and fluffy, about 3 minutes.
4. Add eggs, one at a time. Beat for 30 seconds between each.
5. Whisk together flour, baking powder, and baking soda in a bowl.
6. Measure out milk and vanilla together in another bowl.
7. Add about a fourth of the flour mixture to the butter/sugar mixture and beat to combine.
8. Add about oen third of the milk/vanilla mixture and beat to combine.
9. Repeat above, alternating flour and milk mixtures, ending with the flour.
10. Scoop into cupcake papers about half to three-quarters full (depending on whether you want flat or domed cupcakes).
11. Bake for 22-25 minutes until a cake tester comes out clean.
...
Now obviously I made some changes. :) I pressed a heaping tablespoon of the Shortbread Base into paper liners in the cupcake pan (and next time I would use foil, haha, the paper stuck to the shortbread a bit) and baked them for 10 minutes. Then I poured about 1+ tablespoons (about 1/4") of the Lemon Topping on top and baked them for another 15 minutes. For the cake batter, I added about 1/4 cup of lemon juice to the mix. I spooned enough of that on top of the lemon "bars" so that the cups were 3/4 of the way full, and baked that for about 12-15 minutes, until the toothpick came out clean. The frosting was about half cream cheese, half butter, with a bit of lemon juice, yellow food coloring, and lots of powdered sugar. I don't like too much cheese taste.
And, also, I was able to make a small pan of regular lemon bars with the base and topping leftovers. The cupcakes don't use too much.
:D