Cookies for Eid
Muslims around the world are celebrating
Eid
, here are some sweets i made for the celebration.
Kuih Sugee (a sort of malay/indian equivalent of the shortbread cookie)
Chocolate-Chocolate Meringue Cookies
Honey Cornflakes
True to my lazy approach to baking (and life), none of these recipes has more than 5 ingredients!
________________________________________
________________________________________
__
Kuih Sugee
(koo-way soo-gee)
300g Flour
120g Castor Sugar (+more for coating)
150g
Ghee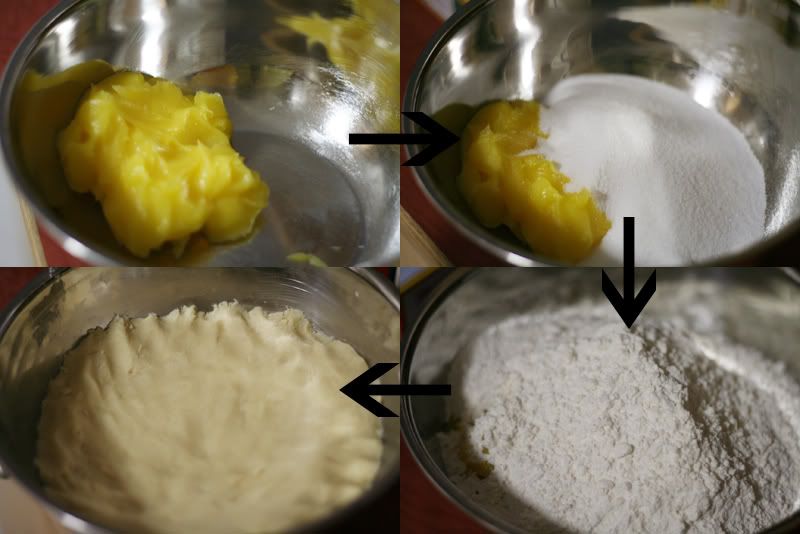 -Dump all the ingredients together and using a pastry cutter/clean hands, work it into a smooth, crumbless batter (much like shortbread)
Frankly, you can just roll them into balls as-is but since this is a celebration and nothing screams festivities like colour,
divide the batter into three and add food dye to 2 of them, like so.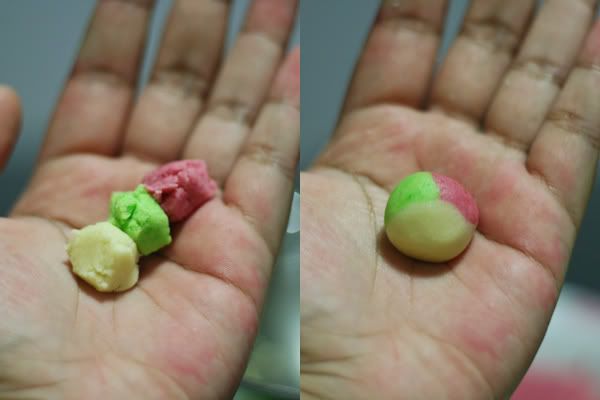 Pinch a bit of each and using your palm, gently roll them into bite sized balls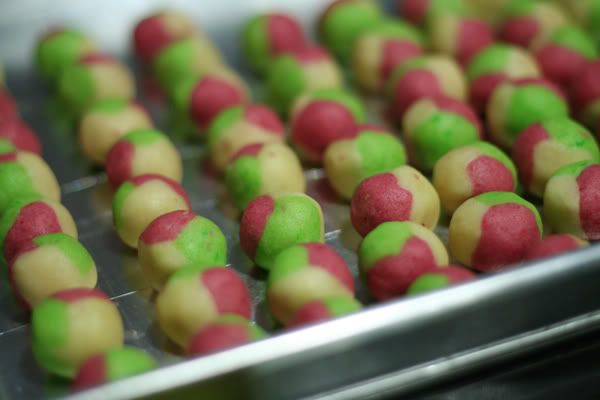 Not all my balls looked like this. After making 350 balls(i doubled the recipe, and then doubled it again), i succumbed to failure
and mixed the
remaining batter
paddle-pop
style
Preheat the oven to 320°f/160°c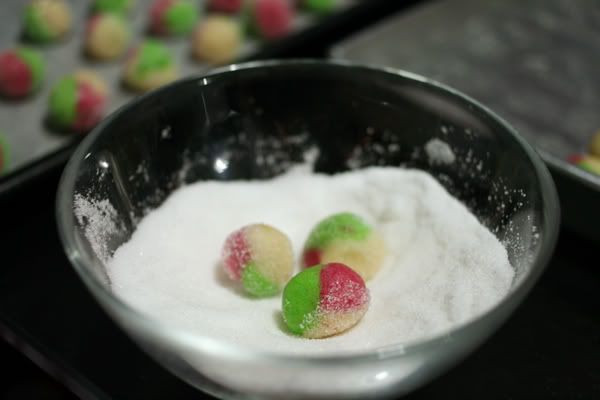 Roll the balls in some sugar, coating them well and bake for 20mins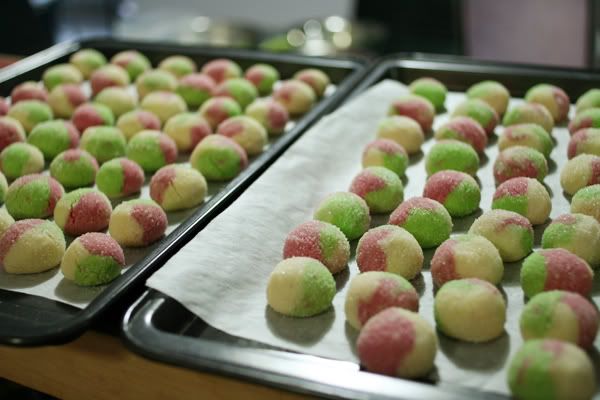 Allow them to cool fully before consuming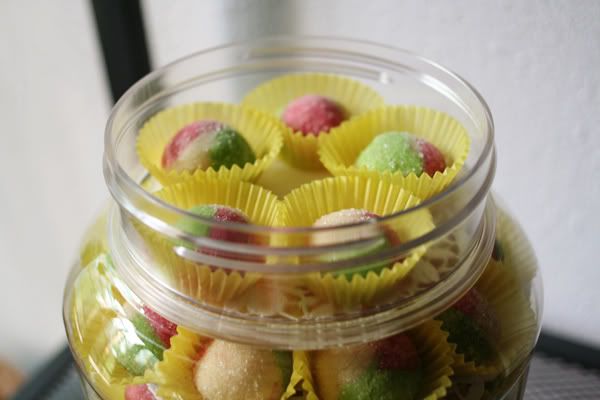 I placed mine in mini baking cases but you can just stack them up w/o.
________________________________________
________________________________________
__
Honey Cornflakes
750g Plain Cornflakes
250g Butter
30tbsp Honey
10tsp Castor Sugar
-Preheat oven to 300°f/150°c
-Melt the butter & honey together, add the sugar and mix well. Turn off heat and allow to cool for about 15mins
-In a large bowl, pour the cooled mixture over the cornflakes and mix thoroughly, making sure all the cornflakes are coated
-Spoon into mini baking cases and bake for 10-15mins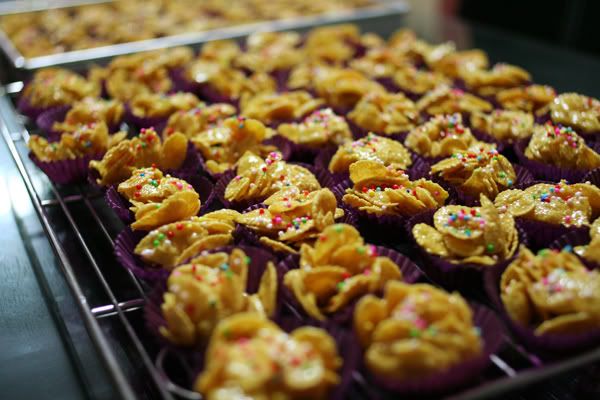 Allow to cool fully before nom-ing or storing.
End result should be a crunchy, buttery, sweet and awesome explosion in your mouth. An interesting alternative to Rice Krispies Treats!
________________________________________
________________________________________
__
My first time making meringues! Not gonna lie, i flipped the bowl upside down over my mom's head a couple of times.
Recipe adapted from
SmittenKitchen
&
LickTheFrosting
Chocolate-Chocolate Meringues Cookies
4 Egg Whites, room temperature
1/4 tsp Cream of Tartar
3/4 cup Castor Sugar
1 cup Chocolate Chips (i used the mini hershey's ones)
1 cup Chocolate Cornflakes (i used
this
)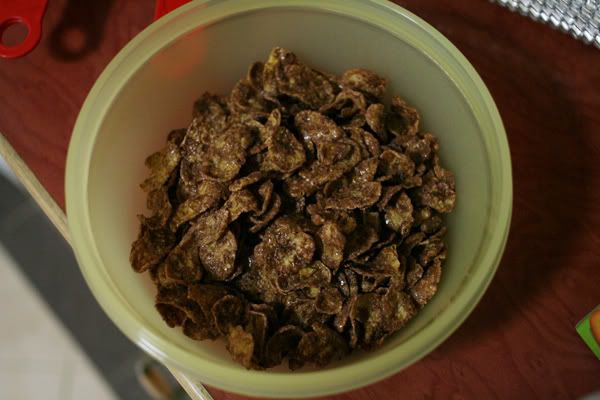 Place the cornflakes in a bowl and with the bottom of the cup, crush them gently. We want smaller pieces, not powder!
Add the chocolate chips to the bowl and set aside.
Making meringues couldn't be easier
-Beat the egg whites until foamy, add cream of tartar and beat again
-When you start getting soft peaks, start adding the sugar 1/4 cup at a time
-Turn off the mixer when you start getting stiff peaks
-Gently fold in the cornflakes and chocolate chips
That's it! I don't think it took more than 5mins, it was super simple.
-Preheat the oven at 200°f/90°C
Spoon the batter into mini baking cases (i got 100 cookies from the 4 egg whites)
Bake for an hour and a half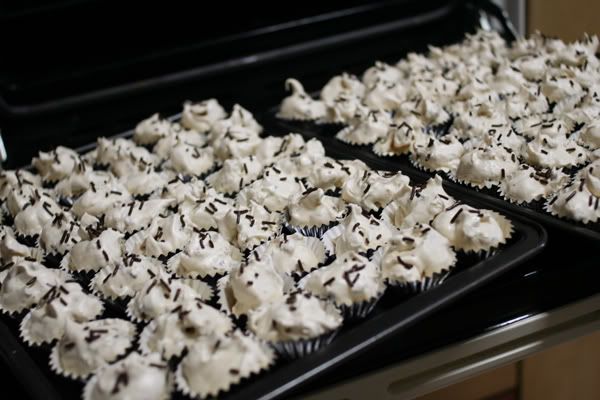 They should look like their pre-baking self, only with a slight tan.
Don't they look like gloopy messes?
Rest assured that they're delicious gloopy messes!
1,220 cookies later and i am
beat
. I'll never get the 5 days i spent making all of these back
but i do have a lottt of cookies to munch on.
Also, i would like to wish Eid Mubarak to all the muslim readers!