Christmas Macarons!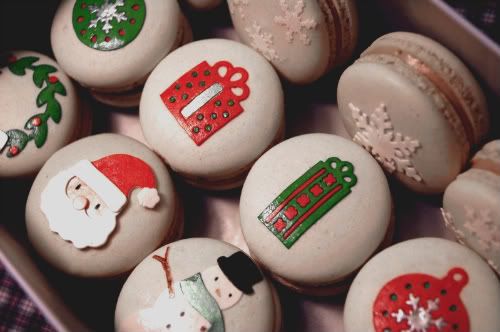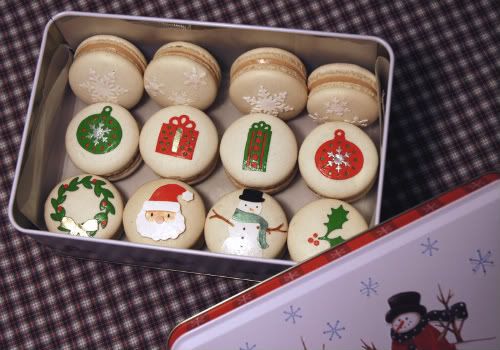 Ahh, clearly I have to learn how to take better pictures! They were taken under a super yellow light so I tried my best to fix them to more true-colors. =/
Anyway, the decorations are made with sugarveil icing and for the Macarons I use a Pierre Herme Italian Meringue Macaron recipe
Its posted all over the internet, but here it is anyway!
1)
100 grams icing sugar
100 grams ground almonds
38 grams fresh egg whites
2)
100 grams sugar
25 grams water
38 grams old egg whites
1 gram egg white powder
Combine all ingredients together from list 1 by first grinding the icing sugar & almonds together. Cook the water and sugar from list 2 to 118 C- 245F. When the syrup reaches 108 C- 226F start whipping on medium speed the eggwhites with the egg white powder also from list 2 to stiff peaks. Slowly pour the cooked syrup in a thin stream into the meringue while the mixer is still going. When the mixture reaches 50C-122F, take the bowl out and fold the meringue progressively into the first mixture. Add a third of the meringue to lighten the mixture and then beat in the rest of the meringue. Look for the infamous "flows like magma" consistancy.
With a piping bag fitted with a no. 11 plain round nozzle (i use a no. 12), pipe macarons on tray lined with parchment paper or silpat. Bake at 160C- 320F for about 14/15 minutes.
When the shells have cooled and fill with buttercream/ganache/jam of your choice!
The fillings I chose were vanilla buttercream, chocolate ganache, and salted caramel buttercream.