Flourless Black Forest Roulade
It was my husband's birthday yesterday so I whipped up this surprisingly easy dessert for him! It was a big hit!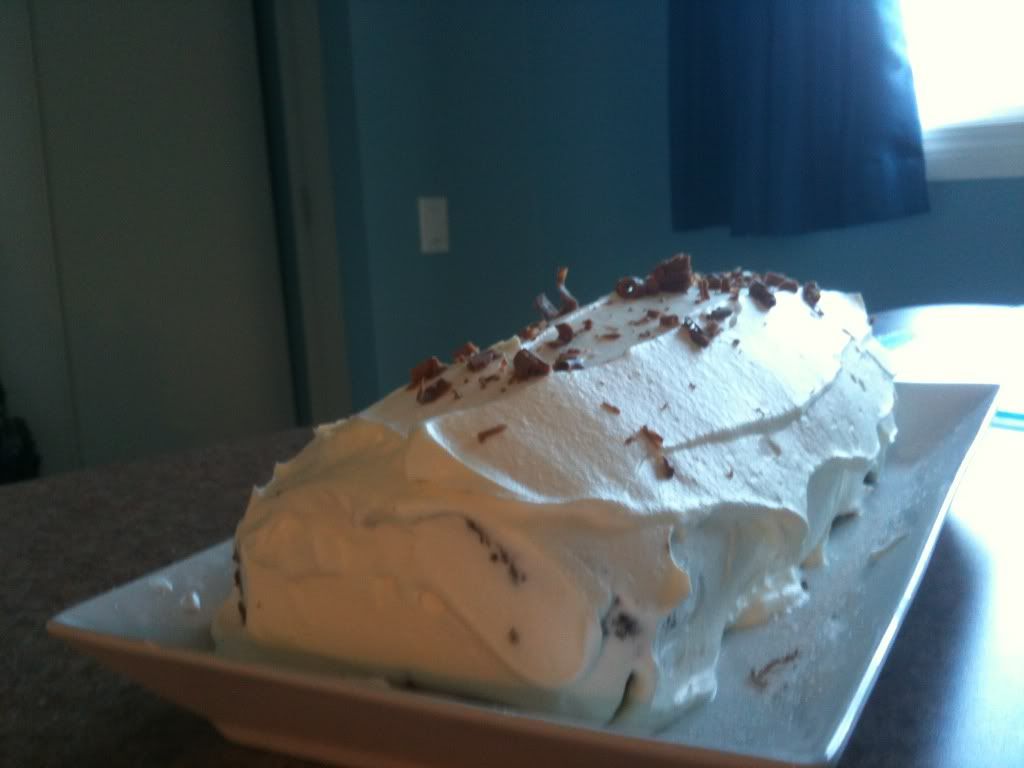 (please forgive the photos, they're from my phone and I'm not much of a photographer)


The husband and I are both throughly addicted to the Food Network, so I got this recipe from Bake With Anna Olson.
Here
is the link to the recipe, but I'll paste it in this post as well. Since there's four major parts to this roulade, I found following hers a bit difficult, so I'll change that up a bit to make it easier to follow.
Flourless Jelly Roll:
6 large eggs, separated and at room temperature
3/4 cup sugar
1/2 cup cocoa powder
1/8 tsp salt
icing sugar, for dusting
Preheat the oven to 350F. Line a 10" x 15" jelly roll pan with parchment paper.
Whisk the egg yolks and sugar by hand until lighter in colour, but not holding any air. Sift the cocoa powder over the yolks and whisk in.
In a separate bowl, whip the egg whites and salt on high speed until they hold a medium peak when the beaters are lifted. Fold a third of the whites into the yolk mixture using a whisk and then fold in the remaining two thirds until evenly incorporated. Spread the batter evenly into the prepared pan. Bake the cake for 25 minutes (it will rise up while baking and then fall once it is removed from the oven - that is OK) and let it cool completely in the pan.
Kirsch Cherries:
1 cup fresh, jarred, or frozen and thawed pitted tart cherries
2 tbsp sugar
1 tbsp Kirsch
Simmer the cherries for about 15 minutes or until the juices are reduced by half, then add the sugar and simmer 5 minutes more. Remove the pot from the heat and stir in the Kirsch. Cool and then chill the cherries until ready to assemble.
(or, if you're like me and don't have any Kirsch and didn't want to buy a bottle JUST for this recipe, buy a jar of maraschino cherries and cut a bunch in half)
Chocolate Cream:
1 cup whipping cream
2 oz bittersweet chocolate, chopped
Bring the cream just to a simmer and pour it over the chocolate. Let this sit for one minute, then gently whisk until the chocolate has melted into the cream. Cool this to room temperature, then chill completely.
After it's chilled, whip the chocolate cream on medium speed until it holds a medium peak.
Whipped Topping:
1 1/4 cups whipping cream
1 tbsp + 1 tsp instant skim milk powder
2 tbsp sugar
Whip the cream and skim milk powder until it holds a medium speak, then add the sugar.
Assembly:
Run a spatula around the outside edge of the cooled cake and turn it out onto a work surface dusted with icing sugar. Peel away the parchment paper and spread the whipped chocolate cream over the cake. Spread the cherries evenly throughout the chocolate cream. Roll up the cake from the short side and carefully lift onto your serving platter so that the seam is on the bottom. Spread the whipped cream over the roulade to completely cover it and use a vegetable peeler to make chocolate curls to sprinkle on top. Chill until ready to serve. The roulade can be made up to 8 hours before serving.
All in all I found it really easy to make, even though there are a few different layers, and a lot of cooling/chilling time involved. It has a wonderful Black Forest taste, and isn't too sweet!
Here's a picture after we cut off a slice:
Thanks for reading! Enjoy!