White Chocolate Cheesecake
For this week's cook book challenge, I turned to "Grossi Florentino - Secrets and Recipes". After years of promising my boyfriend I'd one day make him a baked cheesecake and then, well, not, I couldn't pass up the opportunity to try one.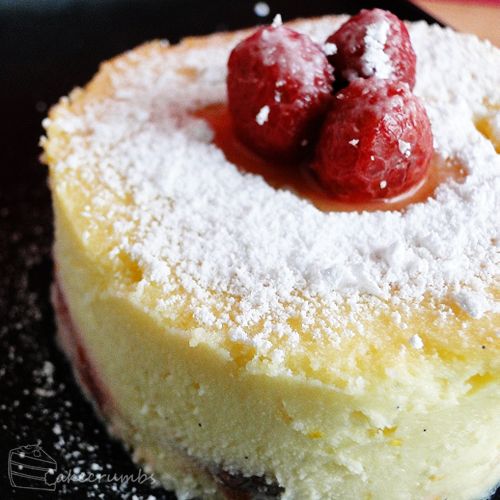 I nearly did pass it up, though. My first preference was to make cannolis, but after not being able to find cannoli forms anywhere, I gave the book to boyfriend to choose. I should have seen where it was going: cheesecake or lemon tart. Of course.

I decided I owed it to him to choose the cheesecake this time.




There is clearly a lot I have to learn about baking cheesecakes. Like beat the eggs in last, and only as long as they need to to become incorporated into the mixture: the egg holds the air beaten into it, which will escape when baking and cause the surface of the cake to crack. Also, don't bake it with an hour and a half until boyfriend needs to go home. I'd neglected to factor in the cooling time required to set the cheesecake. So I slopped half of the hot cheesecake onto plates right out of the oven and cut a prettier slice today for the blog. The rest of the mess, now it has set, I will cube and top with something, perhaps a mousse or custard, and serve in tumblers.

I'm not sure if my boyfriend is just super nice or really not picky, but he loved the broken mess of cheesecake straight from the oven. Maybe it's just because the flavours in this are so delicious.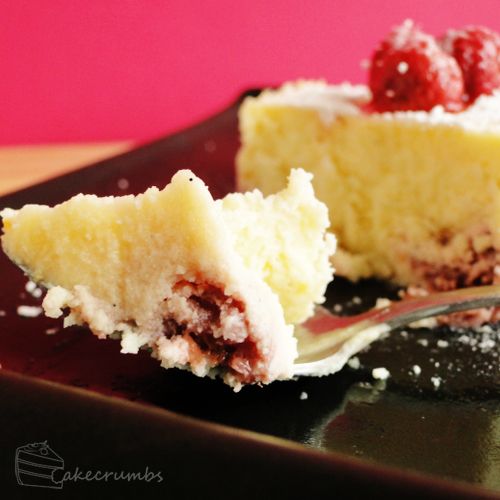 Grossi's recipe mentions nothing of the sort, but a good way too cool the cheesecake is to turn the oven off and leave it cool inside for an hour before removing from the tray to slice. You can then put it in the fridge if you like your cheesecake cold, though Grossi recommends serving it either warm or at room temperature.

I put in a little more vanilla bean than he suggested, because I really love the flecks of vanilla seed throughout the dish.

Here's the recipe:



White Chocolate Cheesecake

Ingredients

160g white chocolate (preferably Valrhona)
650g cream cheese, softened
250g caster sugar
3 eggs, lightly beaten
grated zest and juice of one orange
seeds from 1/2 vanilla bean
200g raspberries
icing sugar

Method
Preheat oven to 160°C (140°C fan forced). Lightly grease a 5cm deep rectangular baking dish (28cm x 21cm) and line it with greaseproof paper.
Melt the white chocolate over a double boiler until smooth. Combine the cream cheese and sugar, then slowly add the melted chocolate, eggs, orange zest and juice and vanilla seeds.
Pour half the chocolate mixture into the baking dish. Cover with raspberries and pour over the remaining mixture. Bake for 1 hour until just set.
Allow to cool - the cake will become more stable and easier to cut. Dust with icing sugar and serve warm or at room temperature from the paper-lined dish.
If you'd like to hear more about the book this is from, or grab the printable version of this recipe, you'll find it at Cakecrumbs