The Hunger Games: Mockingjay Cupcakes
How many of you bakers are fans of the Hunger Games series? Those among you probably would have been anticipating this weekend just gone with as much excitement as I was: The Hunger Games movie cam out on DVD.

I have an obsessive love for the series, and the movie adaptation of the first book was just amazing, so I was bouncing with all kinds of excitement. Here in Aus we got it on the Friday (or Thursday if you happened to go to a store that put them out early). While I was going crazy in anticipation, I decided to make some Mockingjay cupcakes to celebrate.
I wasn't really happy with how the mockingjay pin cupcake come out on my first attempt when I made the
Hunger Games cupcakes
, so any excuse to give this another go was a welcome one.
Here's the final result: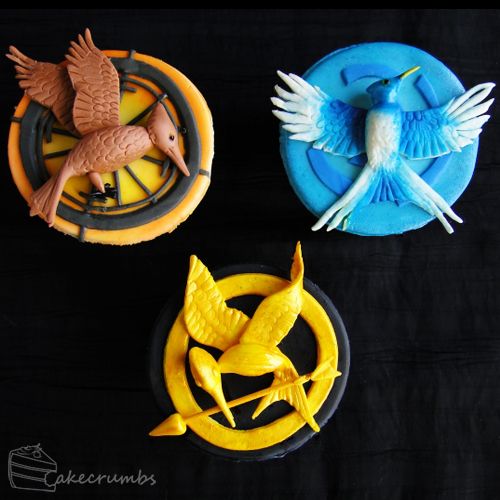 The first one came from the first book, The Hunger Games. I have the special edition version of this book and was tempted to do the new mockingjay art, but I'm so in love with the pin I opted to retry it.
Unlike the other two, this artwork depicts an object, rather than a living bird. So the eyes are just gold spheres and there are no feet. Both the mockingjay and the background are white fondant painted, mainly because I couldn't be bothered kneading the colouring in for hours on end!
Ideally, I would have liked to make the wings from individual feathers, but attempts to do that were lengthy or too bulky for such a small topper, so I opted for indenting them instead. Not perfect, but an improvement from last time, I think.
The next is the Catching Fire mockingjay. This one is supposed to look more real-life than the pin. My version certainly isn't as elegant as the cover art, but I still had lots of fun making it.
This mockingjay has eyes and feet -- the latter of which were terrible to do. I'll definitely try it a new way next time.
This mockingjay gorgeous primary feathers that extend like fingertips. The wings are my favourite part of this mockingjay on the cover art, so I hoped to do them some justice.
And lastly, we have the Mockingjay mockingjay. This one is my favourite artwork of all the covers.
The first two I made largely by making all their components separately and joining them together. But for this it was done as two pieces. Shaping the entire body and tail was a challenge for something that dries as quickly as fondant. I made feet for it but opted to leave them off. They just looked so distracting and, unlike the Catching Fire mockingjay, are not a prominent feature in the artwork.
The colour was also a challenge. On the cover art, they're more shadow rather than markings, so it was difficult to decide how to approach it. It's also bluer in some versions of the cover. I used a combination of lustre dust and diluted food colouring to achieve this look.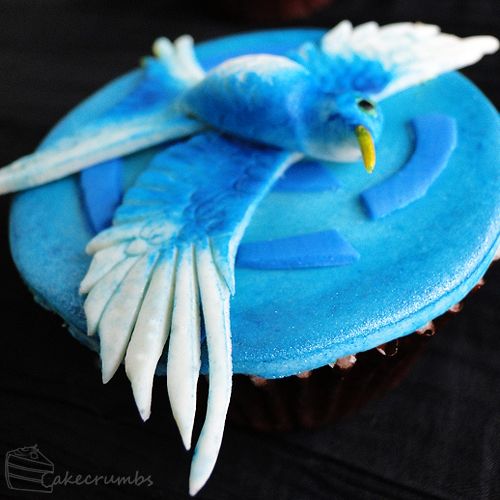 My favourite part was making the wings. I hope I get the opportunity to try these again in future so I can improve on techniques here. They're awesome fun to make.


If you'd like to check out the progress pics, or see more pictures of the final product, head over to the original post at Cakecrumbs.