Vanilla Cheesecake Slice
Here's another treat I baked for Father's Day! This one went to my boyfriend's dad.




After a delicious lunch at his house, there definitely was an abundance of dessert. His sister-in-law brought a delicious ginger cake she'd baked, and his mum provided a hummingbird cake as well as platters of different biscuits, nuts, chocolates and other sweets. In between these two courses, we all had this vanilla cheesecake slice.



This slice is a layer of vanilla custard and a layer of vanilla cheesecake sandwiched between two layers of puff pastry. It's then dusted in icing sugar and patterned with a caramelised lattice.




It is a little difficult to cut when fresh. You need a hot knife and a bit of patience to avoid squishing the custard out in every direction. With care, you'll end up with two even layers of filling. Once the slice has been refrigerated for a day or two and the pastry has taken up some of the moisture, it is much easier to cut through -- if you can wait that long!




Cut the slices as big...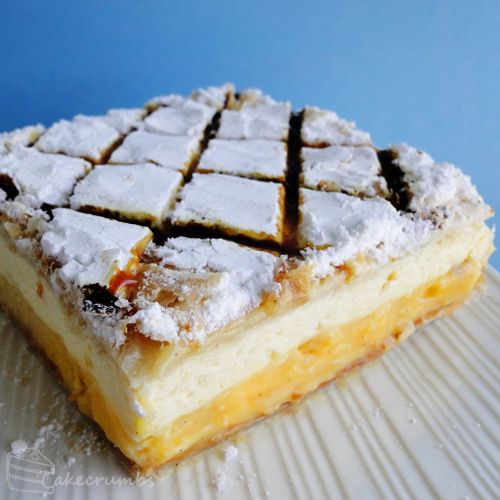 ... or as small as you like.

I cut them into 16 squares. At this size, it was large enough to enjoy while still leaving plenty of room for more dessert (or a second slice if you can't resist). If serving as a dessert or treat by itself, you may want to cut it into 9 or 12 pieces.




I didn't use any gelatine in the custard portion. If you want to stabilise it and make the slice easier to cut, you can add the same amount required for the cheesecake layer. If aesthetics doesn't bother you, you don't have to bother with it.




Vanilla Cheesecake Slice

Ingredients

Custard Layer
1/2 cup (110g) icing sugar
1/3 cup (50g) cornflour
1/4 cup (30g) custard powder
2 cups (500ml) milk
1 teaspoon vanilla bean paste
40g butter, chopped
2 egg yolks

Cheesecake Layer
1 1/2 teaspoons powdered gelatine
1 tablespoon water
250g cream cheese, room temperature
1/3 cup (75g) caster sugar
3/4 cup (180ml) cream
1/2 teaspoon vanilla essence

2x 23cm squares of puff pastry
icing sugar, for dusting

Method
Preheat oven to 240°C (220°C fan-forced/465°F). Line a 23cm square cake pan with greaseproof paper, foil or cling wrap. Line or grease a large baking tray.
Place puff pastry on baking tray; prick all over with a fork and bake for 10 minutes, or until golden in colour. Leave aside to cool; flatten if necessary and place one sheet into the cake tin.
To make custard; blend dry ingredients in a medium saucepan with 1/4 cup of milk. Ensure no lumps remain, then add the rest of the milk and the vanilla. Stir over medium heat until mixture boils and thickens; stir in egg yolks and butter until smooth and well incorporated. Pour into cake pan and spread evenly over pastry.
To make the cheesecake layer; sprinkle gelatin over water inside a small heatproof jug or glass. Simmer in a small saucepan of water, stirring, until gelatin disovles. Remove pan from heat and let stand. Beat cream cheese and sugar in a medium mixing bowl until smooth. Beat in cream and vanilla essence; beat in gelatine. Spread over custard layer
Top with second sheet of pastry; gently press down to ensure it adheres. Cover with plastic wrap and refrigerate for at least 6 hours, preferably overnight. Once set, remove from pan and place on a large platter or chopping board.
To make sugar lattice; dust the top of the pastry with a generous layer of icing sugar. Heat a metal skewer over a flame until red hot (a gas hotplate is idea for this) then drag in a straight line across the surface of the icing sugar. To make this process quicker, I use two metal skewers and leave one to heat over the hotplate while using the second to caramelise the sugar. You will need to re-heat them several times. Use a cloth to wipe the skewers of any remaining icing sugar between bouts.
Cut into 9, 12 or 16 slices.

To see more pictures of this slice, read about lunch time with my boyfriend's family, check out my mother hen warnings for caramelising the sugar, or just to grab a printable version of this recipe, check out the post at Cakecrumbs.