Gooey "German" Pumpkin Skillet Cake
Y'all. This cake is INSANE. And it's easy. And you just have, have, have to make it. It's a moist, simple pumpkin skillet cake with a layer of gooey, rich toasted pecan and coconut filling ladled over top. Mike and I ate it with ice cream (duh) and a totally excessive drizzle of caramel sauce, swooning with every bite. You're going to LOVE it.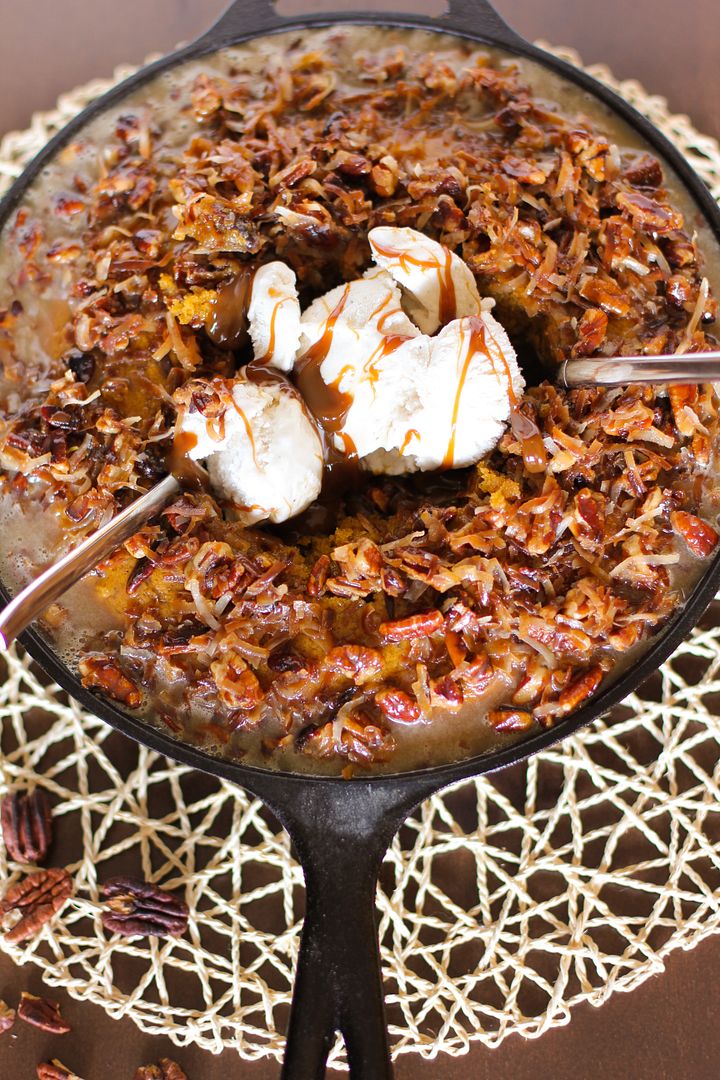 Gooey "German" Pumpkin Skillet Cake
---

Recipe by: Willow Bird Baking, with filling adapted from David Lebovitz
Yield: about 8 servings

Cake Ingredients:
3/4 cup (1 1/2 sticks) unsalted butter
1/4 cup vegetable oil
3/4 cup granulated sugar
1/4 cup firmly packed light brown sugar
1 cup pureed pumpkin
1 teaspoon vanilla extract
2 eggs
2 1/8 cups all-purpose flour
1 teaspoon baking powder
1/2 teaspoon baking soda
1/2 teaspoon salt
2 teaspoons cinnamon
1/2 teaspoon nutmeg
1/2 teaspoon ginger
1/4 teaspoon allspice
1/2 cup toasted pecans (optional, see note in directions)

"German" Filling Ingredients:
2/3 cup heavy cream
2/3 cup sugar
2 large egg yolks
2 ounces butter, cut into small pieces
1/3 teaspoon salt
2/3 cup pecans, toasted and finely chopped (see note in directions)
1 cup unsweetened coconut, toasted (see note in directions)

Directions:
Note: To toast your chopped pecans, spread them on a sheet pan and bake at 350 degrees F for about 6 minutes or until fragrant, stirring a couple of times. Toast coconut the same way, stirring often (it might take less time, however: maybe 4-5 minutes total). Don't be scared and pull the nuts and coconut out when it's pale -- let it get good and dark, but not burnt.

Preheat the oven to 350 degrees F. In a 10- or 12-inch cast iron skillet (I used a 10-inch) over medium heat, melt the butter. Stir in the vegetable oil, sugars, and vanilla and remove from heat. Let this mixture cool until the pan is no longer hot (about 5 minutes) so you won't scramble your eggs.

Add both eggs to the butter mixture, whisking them well to combine. Whisk in the pumpkin. In a separate bowl, whisk together the flour, salt, baking soda, baking powder, cinnamon, nutmeg, ginger, allspice (Note: it's kind of lame to use another bowl for this and I think you should be able to just dump all your dry ingredients on top and whisk them in well, but I was too chicken to try. If you just dump them in, please let me know how it goes!)

Stir in the toasted pecans if you're using them. Bake your skillet cookie for 15-35* minutes, or until the edges are getting golden and the center is still soft (a toothpick inserted into the center should come out with some moist crumbs, but no liquid batter).

While your cake bakes and then cools for a bit, make the filling. Place the butter, salt, toasted coconut, and toasted pecans in a medium bowl. In a small saucepan, heat the cream, sugar, and egg yolks over medium heat, stirring constantly, until the mixture is thickened, coats the spoon, and reads 170 degrees F on a candy thermometer. Pour this mixture over the coconut mixture and stir until the butter melts. Let the mixture cool completely (I set mine in the fridge once it was almost cool to thicken it some more.) Spread the cooled mixture over the surface of the pumpkin cake. Eat immediately (preferably straight from the skillet, with heaps of vanilla bean ice cream!)

*Depending on your skillet, this cooking time can really vary. I'd start checking at 15 minutes and then check every couple of minutes after that with toothpicks. Make sure to look for moist crumbs, not a clean toothpick. If you overbake, it might be dry!










To hear all about my dog and what she has to do with this cake (hint: nothing), see why this cake is German (hint: it's not), and see more photos of pumpkin cake, please head over to Willow Bird Baking!

x-posted to food_porn, cooking, picturing_food, and bakebakebake