Heart of Roses Wedding Cake
Here's a small wedding cake I was comissioned to do for a couple having a more intimate reception.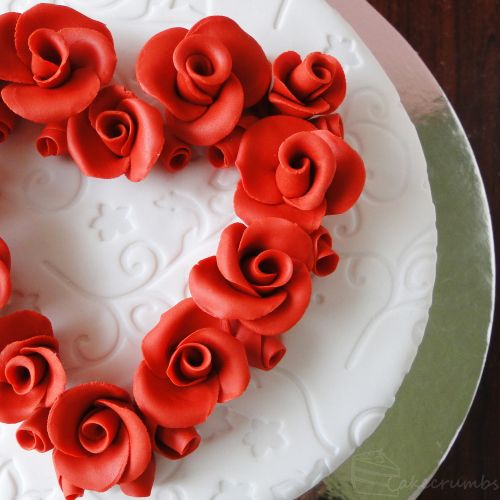 The couple requested a stawberry cake with chocolate buttercream.



I cut the cake into 4 layers to make it a bit more intricate and elegant-looking.





For the external design, my brief was for a cake covered in white, embossed fondant with a heart of red roses. I was admittedly nervous the moment they said embossed fondant. I've only covered cupcakes and a small cake with embossed fondant. It's difficult to roll the fondant as thin as I like to without the embosser cutting right through the fondant. But the hardest part is covering the cake with embossed fondant without tearing or warping the pattern. It's impossible to do without minimal distortion unless you use the wrap around method, but that leaves a seam. So you have to work quickly but carefully to shape the fondant but not pull at it too hard, or smooth it so much that you erase the pattern. I've not had to do that on such a large scale before. It was definitely a challenge.

So when it worked first try there was much joyous dancing around my kitchen. Gangnam Style.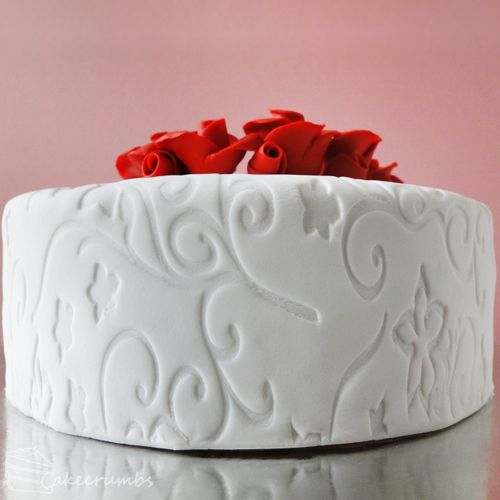 In fact, the whole process went fairly smoothly. I had to give myself a bit of a crash course in making fondant roses again. My first two were a little bodgy. But once I got into the swing of it, it got a lot better.




The example photos I was given as a rough indication of what they wanted was more of a floral spray. I thought the leaves looked messy and so I wanted to refine it a little. One lesson I've been slow at learning is that less is often more. I have a tendency to crowd, to want to do as much as I can on a cake. Instead, this time I stuck to the two tones of red against white. I made the roses somwhere in betwenn cartoony and realism. I made a dozen of these roses and attached them to the cake in a heart shape. I much preferred this look.



To bulk up the heart shape a little, instead of rose leaves, I made little rose buds to sit in between the roses.


Here's a happy snap I was sent of the innards of the cake.




If you'd like to seem more photos, check out the original post @ Cakecrumbs.