Chocolate Chip Cheesecake
So, first time poster (long time lurker). Last night my best friend came over and we made a night of cheesecake making.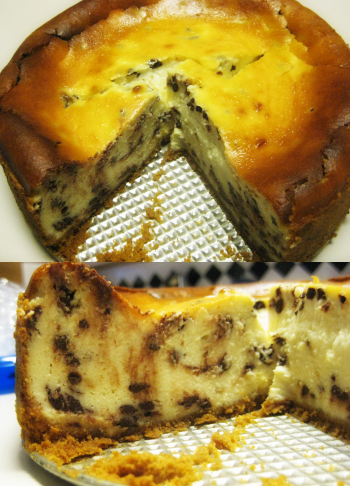 We mostly used
this
New York Cheesecake recipe (with a few changes here and there as follows).
1 3/4 c graham crackers, crushed
3 tps butter, melted
32 oz cream cheese
1 1/2 cups white sugar
3/4 cup milk
4 eggs
1 c sour cream
2 tps vanilla extract
1/4 c flour
Optional: Mini Chocolate Chips
Preheat to 350 degrees F. Grease a 9 inch springform pan.
In a medium bowl, mix graham cracker crumbs with melted butter. Press onto bottom of springform pan.
In a large bowl, mix cream cheese with sugar until smooth. Blend in milk, and then mix in the eggs one at a time. Add in sour cream, vanilla and flour until smooth. Add chocolate chips till chocolate-y enough. Pour filling into crust.
Bake for 1 hour.
It cracked pretty hardcore, but I attribute that to our impatience and wanting to eat it as quickly as possible. : )