Chicken Pot Pie
What do you when you get snowed in over the weekend? Make chicken pot pie! Actually, you make two chicken pot pies and bring one to your mom because she called while you were in the middle of making the first one.
I've made chicken pot pie before, but this is the best one I've ever made. Normally, I use crescent roll dough for the crust, but I wasn't going to the store for anything that wasn't a necessity. The driving ban was lifted on Sunday, but I was pretty sure the shelves were still going to be empty. I had everything else I needed, so I just used a basic pastry dough recipe for the crust. Let me tell you: a million times better than the crescent dough! I also used a can of cream of chicken, but the water I used was really the broth that I got from cooking the chicken, and then I added a splash of milk to add some real creaminess to it. I didn't save the broth that was left because I wasn't really sure what to do with it, but you could always freeze it and then use it for soup or a roasted chicken or something.
Onward!

Chicken Pot Pie
For the filling:
1-2 chicken breasts
3 cubes of chicken bouillon
2 cups diced carrots
2 tsp. minced garlic
1 bag frozen corn
Garlic powder, to taste
Celery salt, to taste
Onion salt, to taste
1 can Cream of chicken + ¾ can broth from cooked chicken + ¼ can milk
(cook's note: this gave me enough filling for two 9 inch pot pies!)
1. Put the chicken breasts, carrots, minced garlic and bouillon cubes in a large pot. Fill with enough water to cover everything. Put the cover on the pot and put on medium-high heat. Boil until chicken breasts are cooked through, about 30 minutes. In the last 10 minutes, add the frozen corn to the pot.
2. Remove chicken only from the pot. In a large bowl , shred chicken by using two forks and pulling the forks in opposite directions.
3. Strain the vegetables, making sure to reserve the broth in a separate bowl.
4. In a large pot, combine the shredded chicken, vegetables, spices and cream of chicken. Stir until combined. Heat on low just until everything is warmed thoroughly. The mixture should resemble a creamy soup. Remove from heat.
For the dough:
1 ½ c. flour
¾ tsp. salt
½ tsp. baking powder
¼ c. vegetable shortening
¼ c. cold butter, diced
¼ c. cold water
1 egg, lightly beaten
1. In the bowl of a stand mixer fitted with the flat paddle attachment, combine dry ingredients. Add in butter and shortening and stir until mixture is crumbly.
2. Add enough cold water to make the dough start to stick together (you may need to add more, but I found ¼ cup perfect). Knead in bowl until you can form a ball.
3. Divide the dough into two smaller balls and refrigerate for 30 minutes.
Putting it all together:
1. Preheat oven to 425°F.
2. Roll out one dough ball so that it's large enough to fit your pie pan. This will be your bottom crust. Place dough in your pie plate, cutting off any excess and adding it to any places that have holes or need some extra dough. Pinch the edges so that your crust doesn't shrink too much.
3. Bake for 5-8 minutes, just enough for it to not get soggy and fall apart when we add the filling.
4. Let the pie crust cool for a couple of minutes, then spoon in the filling. NOTE: I HAD ENOUGH FILLING TO MAKE TWO POT PIES.
5. Roll out your second crust. Place it over the filling, then seal the edge. Brush the top with the beaten egg. Cut three slits over the top of the crust for some ventilation so your yummy pot pie doesn't blow up all over the oven. Bake for 30-40 minutes, until crust is a deep, golden brown color. Make sure to check on it about halfway; if the outer edges of the crust are already the perfect color, you will need to pull the pie out and cover the edges with foil (carefully – this pan is hot!) to prevent burning. Let stand 5 minutes before serving.
Looks like my bottom crust needs some work. Oh well.. no one's gonna see it anyway!
The top one might need some work too :P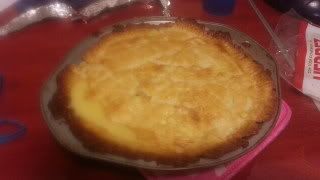 On second thought... that doesn't look too bad at all!
Om nom nom nom
For more, visit
Elfie's Edibles
!