Thank you everyone for your helpful ideas on how to use those raspberries I purchased. I ended up taking them in a slightly different direction.

I had an idea to play around with the everyday black bottom cupcake. I knew I wanted to make a lemon cupcake, but how to include my raspberries? I didn't just want raspberry frosting. So I finally came to the conclusion to whip up a raspberry cream cheese filling to throw into the lemon batter. I don't have any experience playing around with recipes. I researched several different recipes... and I changed some things, and combined. Finally, I came to this end result: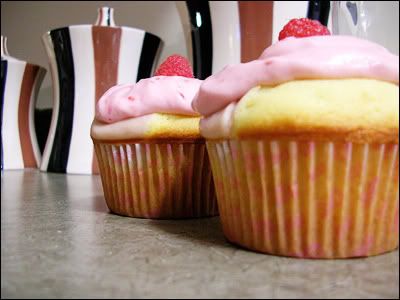 I call it my 'Raspberry Fetish Cupcake'. Because... it seemed like a good idea at the time haha. :D



Raspberry Fetish Cupcakes

Cream Cheese Filling
- 16 oz. (2 sticks) cream cheese, room temp
- 1/2 cup sugar
- 1/4 tsp salt
- 2 large egg whites, room temp
- 2 tbsp sour cream, room temp
- 1/4 cup raspberry preserves, seedless

Beat cream cheese until smooth. Add sugar and salt, continue beating.
Beat in egg whites, sour cream and raspberry preserves. Set aside.

Lemon Citrus Cupcakes
- 2 1/2 cups flour
- 1 tsp baking powder
- 1 1/2 tsp baking soda
- 1/2 tsp salt
- 8 oz. (2 sticks) unsalted butter, slightly softened
- 1 1/2 cups sugar
- 2 eggs, room temp
- 2 egg yolks, room temp
- 1 tsp vanilla
- 2 tsp lemon zest
- 1/4 cup fresh lemon juice
- 1/2 cup milk

Preheat oven to 350 degrees F.
Sift together flour, baking soda and salt.
Beat butter at medium speed until creamy. Gradually add sugar, increasing speed until light and fluffy. Add eggs and yolks one at a time, beating well after each addition.
Beat in vanilla and lemon zest. On low speed, beat in lemon juice. The batter will appear curdled until the addition of flour.
Beat in dry ingredients, alternating with milk. Mix well.
Pour batter into cupcake liners 3/4 full. Top each with 1 heaping tbsp of cream cheese mixture. Do not stir.
Bake for 20 minutes.
Remove from oven and let cool in muffin tin for 5 minutes before moving to cooling rack.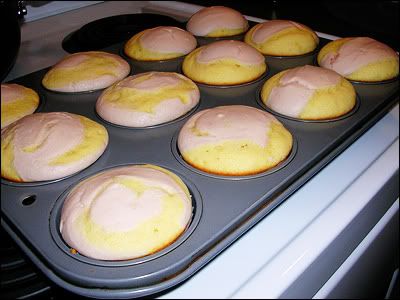 The naked cupcake.

Raspberry Citrus Cream Cheese Frosting
- 1/4 cup (1/2 stick) unsalted butter, slightly softened
- 8 oz. (1 stick) cream cheese, room temp
- 1 tsp fresh lemon juice
- 1/4 cup fresh raspberries
- 1/4 cup raspberry preserves
- 3 cups icing sugar, sifted

Beat butter until smooth. Add cream cheese and beat until combined.
Add half of the icing sugar, lemon juice, fresh raspberries and raspberry preserves. Beat on high until combined.
Add remaining sugar in stages until it has reached desired spreading consistency.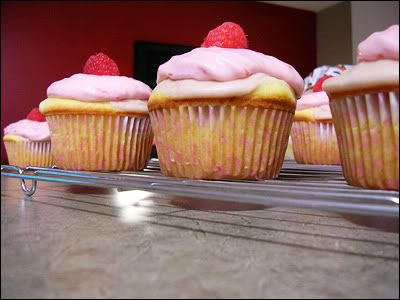 Thoughts
Overall I enjoyed this cupcake. I did not expect it to turn out this well on my first attempt. It reminds me of a being a young girl on a warm summer day. Perhaps not January material, but it was a welcomed change from chocolate. I will definitely be making these again all throughout Spring and Summer.

Before I tasted the cupcake, I thought I might add more icing sugar to the frosting next time as it does appear (and pipe) runny. However, after tasting it, I think it works well. The small cake is slightly dry and icing sort of works like jam on a toast. Very pleasant.

The only change that must be made... I have to purchase a proper lemon zester next time. The current texture is not 100% because I can't zest a lemon with a potato peeler. I can't even peel a potato with a potato peeler.

I would like to try adding more cream cheese filling to the batter next time. I wrote in the recipe 1 heaping tbsp of the filling, however I added less than that to my batter and while it did work... I originally wanted a more dominant flavor. More black bottom cupcake-esque. I did attempt marbling half the cupcakes with the cream cheese filling, however it didn't work as I had hoped. It did hold the frosting better though. Marble, or just dropping by tbsp, both work. Matter of opinion. I suggest trying half and half the first batch of cupcakes.

*exhale*

I'm pretty happy with myself. I'm still just learning. But... it was fun experimenting. And maybe a recipe like this does exist, but... it was fun playing around on my own.