Green Tea Madness
Aromatic, light and flavourful.. Paired with a cuppa piping hot green tea for a yummy late afternoon/morning treat!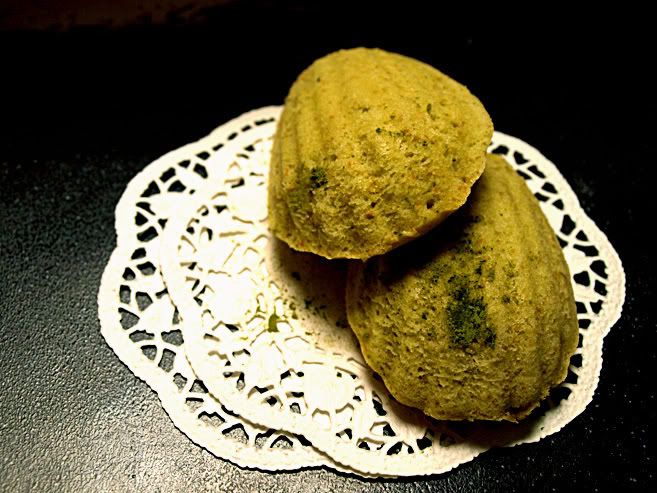 Green Tea (Matcha) Madeleines
Ingredients
120g all-purpose flour, plus extra for dusting

1 tsp baking soda

1 tsp matcha powder

pinch of salt

2 eggs

90g sugar

1 heaped tbsp honey

120g butter, melted and cooled

extra butter for greasing
How to make Matcha Madeleines (Makes about 15-20)

Matcha is a certain type of powdered green tea and is known for many of its properties. (eg. 1. raises metabolism 2. burns fat 3. a natural energy provider/lifter) I simply love matcha for its taste! Ever since the bottle of matcha became an addition in my kitchen pantry, I've been experimenting with matcha and am planning to bake a matcha japanese cheesecake or tiramisu pretty soon! Back to the point, these madeleines are very simple to whip up and are so delish and buttery (yet light) I had several helpings at a go! Even up till today, I'm still trying to perfect my madeleines and to be able to achieve that, it needs to bear some special qualities:

1. Defined, well-shaped ridges
2. "Bump/Hump"
3. Madeleine like texture

So far I've achieved 1 and 3 and partially 2...

That's a sign that I've to work more on them!

Without further ado...


1. Grease a madeleine pan well, then dust with flour, shake off the excess, and pop into the fridge until you're ready to use it.
2. Beat the eggs on high for 1 minute, then add the sugar and honey and beat for 5 minutes. The mixture should be light in colour and very fluffy.
3. Sift the flour, baking soda, matcha powder, and salt together. Sift it once more into the egg mixture and beat until incorporated. Add in the melted butter a little at a time, until the mixture is smooth, making sure the butter is fully incorporated before adding the next drizzle.
4. Cover the bowl tightly with clingfilm, and refrigerate overnight. (I did not refrigerate overnight)
5. Preheat the oven to 150°C.
6. Place about 2 tbsp of batter into each mould (or fill them two-thirds full). Bake for 10-11 minutes, or until the edges are golden brown and the centre is set. (Test it with a wooden skewer.) Cool them on a rack, then serve hot. ENJOY! :D