Not long til Christmas! So it's time to start overeating.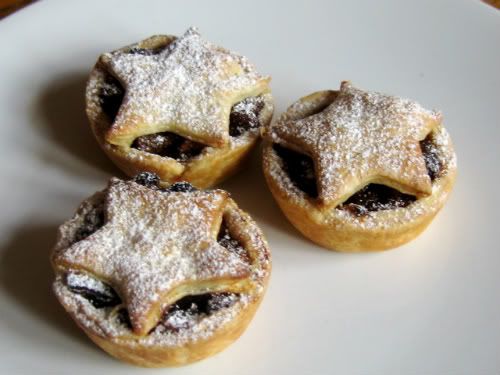 I personally am not a fan of dried fruit...annoying, when it's the basis for pretty much every traditional British Christmas delicacy. But everyone else will eat them.
These mince pies are made with a suet-free 'quincemeat' and encased in gorgeous buttery flaky pastry.
So, the filling for the pies is a combination of the traditional sultanas and raisins, along with chopped dried apricots, a few chopped prunes, and roasted, chopped quince (my favourite fruit, and only around at this time of year). I just roasted the peeled, cored and quartered quince in a little butter until soft, then diced them and added them to the dried fruit.
I always leave out the traditional candied peel: I've yet to find a decent shop-bought brand and one year I made my own which was amazing, a world away from the supermarket kind, but it took about 5 hours, so I can live without it.
The quantity and proportion of the fruit is really up to you: how much you need, and what your preferences are. Some people put in dried figs, pears, cranberries... although it's not traditional, I think it's nice to mix it up a bit.
So you mix all this in a bowl and add ground spices: again, personal preference can dictate your choice but I put in quite a lot of cinnamon plus nutmeg and cloves. Traditionally, apparently, you had to put in these three spices to represent the three Magi who came to worship the Christchild but that sort of thing does not concern me: I just like cinnamon, nutmeg and cloves.
Now: the suet issue. It's really not necessary to mincemeat at all. You can just add a few tablespoons of melted butter instead. I think that's a much nicer option, so that's what I did.
Then to moisten the filling, add a few glugs of brandy, some orange juice (I add orange zest, too) and sugar (preferably muscavado, or at least soft brown) to taste. It's really up to you how much of all this you put in. I find that nobody objects to rather a lot of brandy in life.
Leave it all aside to soak for a white.
Oh, and you must only stir the mincemeat clockwise, or you'll bring bad luck for the coming year.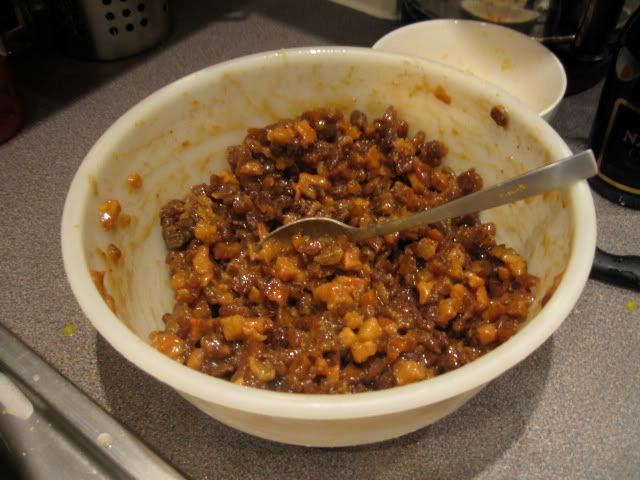 Then you can press and cut out your pie bases and lids. You need an unsweetened shortcrust pastry recipe for this, bought or homemade. The pies should be baked in a bun tin. I always do star lids: it's much easier to make pretty pies this way than by trying to worry about putting round ones on neatly.
Fill the bases with a good tablespoon of mincemeat, top with the lids, and bake at the appropriate temperature for your pastry recipe. You can brush the pastry with beaten egg or milk if you like, but I prefer pale matte pastry to glossy golden: again, up to you.
When the pastry is lightly golden and cooked through (perhaps 20 minutes?), remove the pies from the oven, leave to cool on a wire rack and dust with icing/confectioner's sugar before serving.
Lovely flaky pastry...