Rocky Road Cookies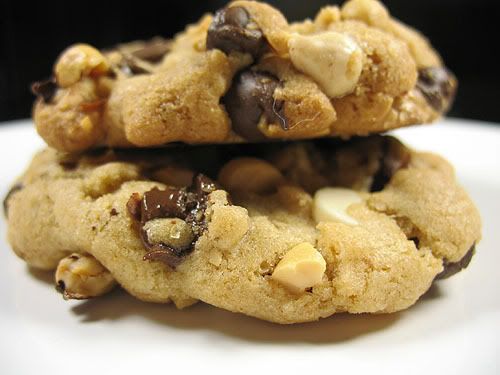 I was bored the other day, so I started going through my pantry and pulled out what I had: mixed nuts, mini marshmallows, white chocolate chips, and milk chocolate chips. I knew that I had to make some rocky road cookies! I love marshmallows in anything, especially cookies. These cookies were exactly what I had in mind, although I may try them again with a chocolate cookie. I sent the majority of these with my brother and his friends when they went to Disneyland for the weekend. I hope that they liked them! Also, that little strand you see in the picture is marshmallow! Anyway, the recipe can be found after the jump or on my blog at
http://crepesofwrath.net
.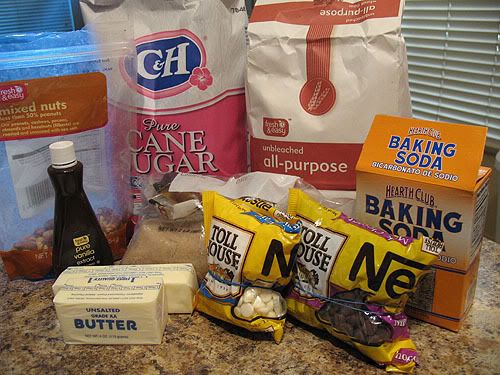 Your mish-mosh of ingredients.
Combine your flour, baking soda, and salt. Set aside.
Beat together the butter and sugars for about 5 minutes. Then, beat in the egg and egg yolk one at a time, then the vanilla.
Mix in the flour mixture until just moist. Add your white and milk chocolate chips, chopped nuts, and marshmallows.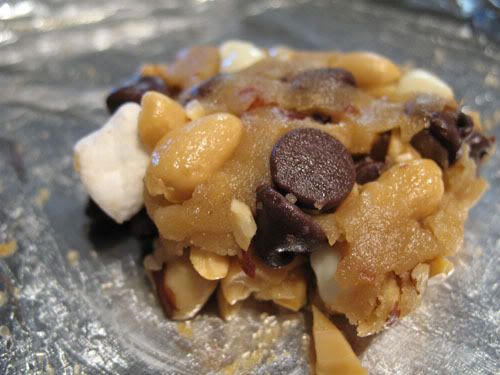 Roll into balls with your hands or drop by spoonfuls onto a greased and/or lined cookie sheet. Bake at 325 degrees F for 10-12 minutes, or until golden but still soft. Allow them to cool a bit before enjoying!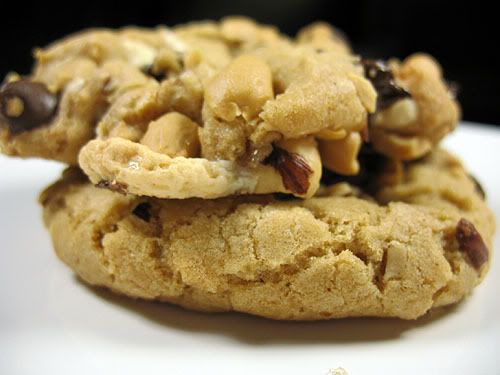 Rocky Road Cookies
2 cups all-purpose flour
1/2 teaspoon baking soda
1/2 teaspoon salt
3/4 cup butter, melted
1 cup packed brown sugar
1/2 cup white sugar
1 egg
1 egg yolk
1 tablespoon vanilla extract
1/2 cup chopped nuts
1 cup chocolate chips
1/2 cup white chocolate chips
1 cup mini marshmallows
1. Preheat the oven to 350 degrees F. In a medium bowl, combine the flour, baking soda, and salt and set aside.
2. Beat together the melted butter, brown sugar, and white sugar. Beat in the egg, then beat in the egg yolk. Beat in the vanilla.
3. Gradually add the flour mixture to the sugar mixture until just moistened. Mix in the nuts, chips, and marshmallows by hand.
4. Roll into balls or drop by spoonfuls onto a greased and/or lined baking sheet, and press down on the cookies with your palm a bit to flatten (not too much!).
5. Bake for 10-15 minutes or until the edges look golden brown. Remember that they need to cool on the baking sheet, so even if they don't look quite set, it's okay because they continue to cook after you remove them from the oven. Allow to finish cooling on a rack or on a different surface. Makes about 15-20 cookies.
http://crepesofwrath.net