i'm not a full time vegan, just part time. and although i'm lactose intolerant i still slip butter into things, especially when i'm baking. this, however, is completely vegan and totally awesome. it's from Vegan With A Vengeance, who then went on to write Vegan Cupcakes to Take Over the World. both books are must-haves for all human beings, vegan and non-vegan.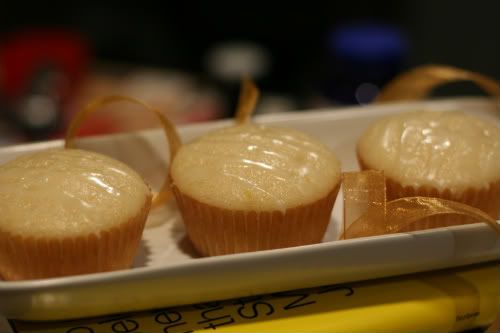 these are so lemony and fluffy and awesome. i'm sad that it's not really lemon season anymore but they still tasted great. next time i'll add more lemon zest. there's always room for more, in my opinion.



-----

i adapted this a little since i didn't have all the ingredients. i don't like to use soy milk in vegan cakes because i usually buy a pretty thick brand. i prefer rice milk because it's much thinner and yields a lighter and fluffier crumb. however, soy is all i had tonight. so i mixed 1/3 cup soy milk and 2/3 cup soda water. i've had a lot of luck with recipes containing carbonated drinks so i was excited to see how these would turn out.

i also didn't make a real frosting as indicated, and just made a glaze instead with icing sugar, lemon juice, and a bit of soy milk.

Ingredients

* 1 1/3 cups all-purpose flour
* 1/2 teaspoon baking powder
* 3/4 teaspoon baking soda
* 1/4 teaspoon salt
* 1/4 cup canola oil
* 2/3 cup sugar, plus
* 2 tablespoons sugar
* 1 cup rice milk
* 1 teaspoon vanilla extract
* 1/4 cup lemon juice
* 1 tablespoon lemon zest

Frosting

* 1/4 cup vegan margarine, softenend (nonhydrogenated)
* 1/4 cup soymilk
* 2 tablespoons lemon juice
* 2 cups confectioners' sugar, sifted

Directions

1. Preheat oven to 350 degrees.
2. Line a 12 muffing tin with paper liners.
3. Sift together flour, baking powder, baking soda, and salt.
4. In a separate bowl, combine oil, sugar, rice milk, vanilla, lemon juice, and zest.
6. Tip the dry ingredients into the wet and mix until smooth.
7. Fill each muffin tin about 2/3 full.
8. Bake cupcakes for 17-20 minutes.
9. Remove cupcakes from muffin tin, and place on wire cooling rack.
10. Frost when fully cooled.
11. For the frosting: Beat the margarine with a hand mixer until fluffy.
12. Stir in soy milk and lemon juice.
13. Add confectioners sugar and mix until smooth.