I only started to take baking seriously about 10 months ago but the moment I did, I was insatiable. I couldn't wait to try out new recipes and one of those that caught my ever wandering eye was this recipe for
doughnut muffins
. I tried it and it was my first ever epic fail at baking. The muffins turned out scone-like in both appearance and texture. Oh I don't blame the recipe, just my inexperience! I continued searching for other donut muffin recipes and found a few (like
this
one) but I was still hesitant because I tend to steer away from recipes that calls for ingredients that I don't usually use (like apple cider vinegar). And then I found this
simple and straightforward recipe
, bookmarked it and pretty much forgot about it.
Until I had my first ever Krispy Kreme glazed doughnut last week. And then it was like I couldn't get enough of doughnuts. So I decided to make them for my mom (also a recent glazed doughnut convert) for Mother's Day!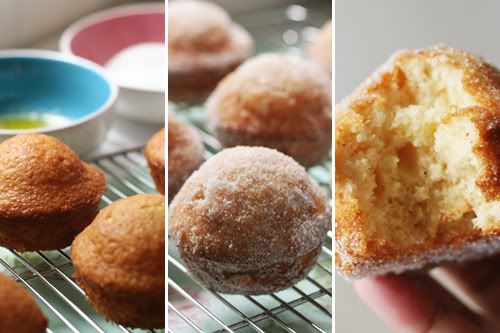 Sugar Donut Muffins
-for muffins-
¾ cup castor sugar
1 large egg
1 ½ cups flour
2 tsp baking powder
¼ tsp salt
¼ tsp ground nutmeg
¼ cup vegetable oil
¾ cup milk
1 tsp vanilla

-for coating-
2 tbsp butter (melted)
½ cup castor sugar

preheat your oven to 350˚f/180˚c
in a bowl, whisk the sugar & egg together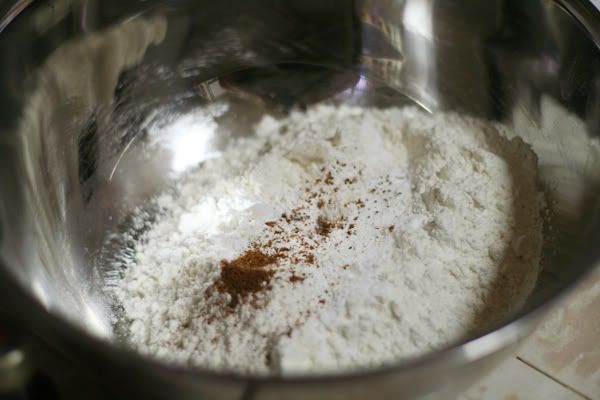 in a bigger bowl, mix the flour, baking powder, salt & nutmeg together with a fork
pour the sugar & egg mixture into the dry ingredients and mix until crumbly
add in the milk, vegetable oil & vanilla
whisk till you get an almost liquid-like texture to your batter
fill the pre-greased muffin tin (about ¾ full) and bake for 20-22 minutes
Slightly OT but don't you love it when the recipe says "yields 10 muffins" and you actually
get
10 muffins?
I usually get at least 3 extra muffins, although I'm not actually complaining!
when your muffins are baked, melt the butter and place in a shallow bowl and put the sugar in another shallow bowl
brush (or dip) the dome part of the muffin with butter and then dunk/coat it thoroughly with the sugar
do the same for the remaining muffins.
Please don't ask me why I only have 8 muffins here, I honestly don't know.
ok, ok I sorta do. They taste
so good
! Soft yet sufficiently moist
I really love the shapes of these muffins, so cute!
This recipe is definitely a keeper, so easy to make and most importantly my mom (and dad too actually lol) really liked it.
Looking forward to fighting for the last 2 muffins with my parents for breakfast tomorrow!
Also, Happy Mother's Day to all the beautiful mommy bakers in this community! :)