Japanese style caramel custard pudding~
'ello everyone!!
I've made caramel custard puddings yesterday and have decided to share this recipe with everyone!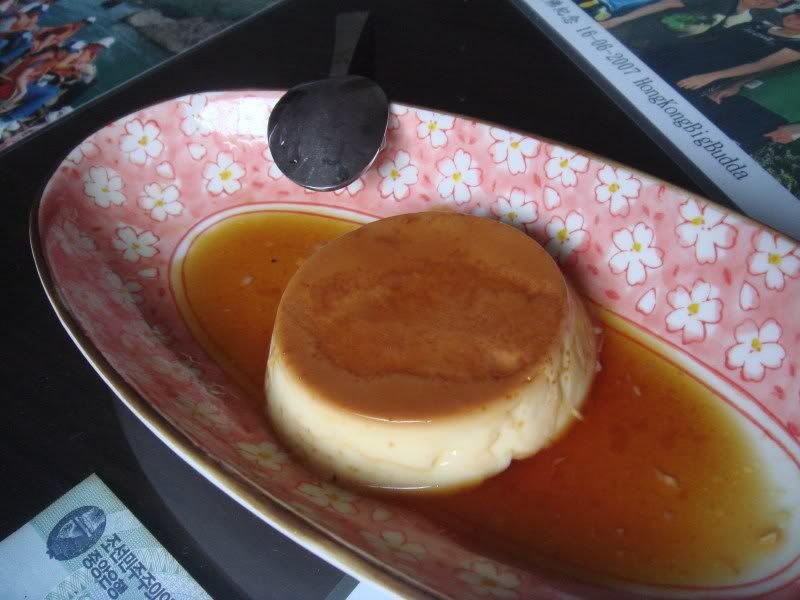 Japanese Caramel Custard Pudding
Ingredients (Makes 6)
Caramel
50g sugar
2 Tablespoons water
Custard
Part A
200ml fresh milk
10g sugar
½ tsp vanilla essence
Part B
1 Whole egg
2 egg yolks
30g sugar
Directions:
· Take out eggs and milk from the fridge to make it room temperature. Lightly grease the pudding moulds. Pre-heat the oven at 150˚C.
· Caramel: Melt sugar in a saucepan until rust brown and bubbling. Immediately pour caramel into the pudding moulds. Caramel may not need to fill the whole bottom surface area of the pudding mould as the caramel will melt after baking. Move FAST as the caramel hardens in the speed of light!
· Custard part A: Heat milk and sugar until sugar melts (No need to boil) and add vanilla essence. Remove from heat and set aside for later use.
· In a mixing bowl, LIGHTLY whisk eggs together with sugar. Then pour in milk in stream, whisk LIGHTLY until well blended. For both steps, make sure no bubbles are present! Bubbles will create "holes" in your puddings.
· Sift the mixture to remove any solidified eggs. Make sure the mixture is around body temperature. If its not, put the mixing bowl in warm water (around 40 - 50˚C) to increase its temperature to body temperature.
· Pour the mixture into the caramel-bottomed pudding moulds. Place moulds in a tray filled with lukewarm water and bake in a preheated oven for 25-30 minutes.
· Cool the puddings and place it in the fridge overnight before serving.


This was my second attempt because i failed pretty badly for my first. I made "holey" puddings (-.-;)
& I've kinda mixed these 2 recipes together..

Recipe 1
Recipe 2
well, recipe 2 is more detailed than recipe 1 and it helped me to figure out what went wrong during my first attempt!