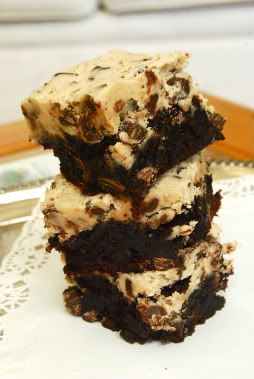 More pictures and commentary on my food blog HERE

Brownie:

* 1 cup butter
* 2 cups sugar
* 4 eggs
* 2 teaspoons vanilla extract
* 1 cup AP flour
* ½ cup cocoa
* ½ teaspoon salt

1. Preheat oven to 350 degrees F. Grease 8"x8" pan.
2. Melt butter in saucepan over low heat. Once melted remove from heat and add sugar, vanilla, and eggs. Blend together.
3. In separate bowl, mix together flour, cocoa, and salt. Add dry mixture to the wet and mix well.
4. Pour into greased pan and bake for 35-40 minutes.

* 1-1/2 sticks butter, softened
* 3/4 cup brown sugar
* 1/3 cup sugar
* 4-1/2 tbsp milk
* 1-1/2 cups flour
* 1-1/2 cups mini chocolate chips.

1. Prepare your brownies according to the package in a 9×13 pan. Let cool completely.
2. Next, combine the butter, sugars, milk and flour until well combined. Then stir in the mini chocolate chips.
3. Spread the cookie dough on the cooled brownies.
4. Then chill the brownies until the cookie dough is firm. Cut into bars and serve.