Chocolate and Sherry Cherry Gift Box Cake
Christmas is not that far away, and I am getting so excited conjuring up ideas for my Boxing Day feast. But before we tuck into the feast, first we have to unwrap the goodies bequeathed unto us by Santa! And what better gift than one involving chocolate?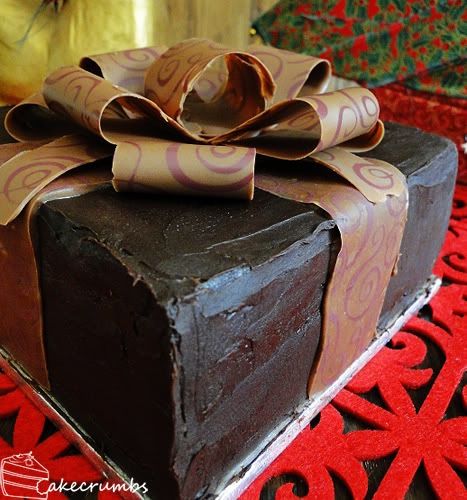 This one was conjured up from a competition by
Harris Scarfe
. The task was to cook one of 6 different recipes, from the sweet to savoury. I, of course, had to go the sweet route.
This cake is boozy. And I mean
boozy
. You can of course substitute the sherry with a fruit juice or similar, which would be my usual preference, but this was a competition based on following a recipe: so follow it I did.
The brief also stated that winners would be based on creativity. This seemed a bit odd to me, as nowhere did it say anything about deviating from the recipe. How to be creative when following a recipe exactly?
My solution was to use some leftover chocolate to adorn it with a chocolate bow.
I'd never tried anything like this before, so it was a learning curve. I used chocolate transfer sheets cut to size and let them set overnight before removing it. I opted to give the ganache a more matte finish than in the original picture to resemble a gift box more and also give the gloss of the chocolate ribbon something to contrast against.
The resultant cake was very moist, owing largely to small amount of dry ingredients in the recipe.
The bitterness of dark chocolate ganache complemented the sherry component rather well - so if you're a lover of boozy cakes than this is a perfect recipe for you. If you're less inclined, subbing out the sherry and/or using a milk chocolate ganache will satisfy the sweeter tooths among you.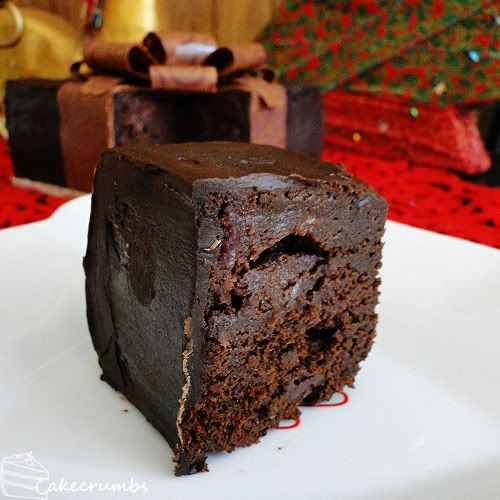 Both the recipe and the winning entries for the competition are in the original post @
Cakecrumbs