Clementine Mousse Cheesecake
Mike loves clementines (or 'tines, as we call them), and I was going to take him a bushel last time I went to Raleigh, but I opted to make a big cheesecake with them instead.
The top layer is a sweet clementine mousse made with clementine curd, and the bottom layer is a traditional creamy cheesecake. I candied some clementine slices to decorate the top and served each piece of cake with a heap of freshly whipped cream. In addition to being delicious, this recipe is also easy to break down over multiple days so there's never too much to do at once.
Clementine Mousse Cheesecake
---

Recipe by: Willow Bird Baking
Yield: 10 pieces

Clementine Mousse Cheesecake is a creamsicle lover's dream. Bright, airy clementine mousse sits atop a smooth, creamy traditional cheesecake in a cookie crust. I decorated mine with pretty candied clementines and served it with freshly whipped cream. In addition to being delicious, this recipe is also easy to break down over multiple days so there's never too much to do at once.

Cheesecake Ingredients:
3 (8 ounce) packages cream cheese, at room temperature
1 cup granulated sugar
1½ tablespoons all-purpose flour
2 teaspoons vanilla extract
3 large eggs
34 Golden Oreos, processed to fine crumbs*
6 tablespoons butter
*Golden Oreos give off some grease while cooking, so you may want to place a baking sheet under your springform to catch this -- you can also substitute graham cracker crumbs if you'd rather, but the oreos are delicious!

Clementine Mousse Ingredients:
1 1/4 cups clementine curd
2 1/2 tablespoons cold water
1 envelope (2 1/4 teaspoons) unflavored gelatin
1 cup chilled heavy whipping cream

Candied Clementine Ingredients:
3 clementines with firm (not loose) skin, well washed and dried
4 cups water
2 cup sugar

Directions:
Notes: Cheesecakes are simple and super customizable. New to cheesecake making? Watch my 6 minute Cheesecake Video Tutorial for visual assistance! This recipe can be divided up over several days — you can make the clementine curd and candied clementines in advance. Make the cheesecake the day before you want to assemble the dessert. Then make the mousse and assemble the cake with enough time to chill before serving.

Make candied clementine slices: (If you make these in advance, keep them in their syrup and store in the fridge. When ready, gently heat them again, remove the slices, and proceed with the drying procedure.) Cut each clementine into 6 horizontal slices. Remove any seeds carefully. Preheat the oven to 200 degrees and place a cooling rack over a baking sheet on the center rack. Prepare a plate of sugar and set it aside.

Heat the sugar and water in a saucepan (wide enough for the slices to sit in a single layer) over medium heat, stirring until the sugar dissolves. Place the slices in in a single layer and gently simmer them for 40-50 minutes, turning them once. The white bits should begin to get transparent. Pull them out of the syrup with tongs and place them on the cooling rack to dry for around 1 hour to 1 hour 15 minutes, or until they're no longer sticky to the touch. Gently dredge them through the plate of sugar, shaking off excess, to coat any sticky portions. Cool completely.

Make the cheesecake: Preheat the oven to 350 degrees F. Lightly grease a springform cheesecake pan. Combine the cookie crumbs and melted butter in a small bowl. Toss with a fork to moisten all of the crumbs. Using a flat-sided glass, press into an even layer covering the bottom and sides of your cheesecake pan (you want it to be tall — try to get to about 2.5-3 inches high -- and a little thicker than for your usual cheesecake; maybe 1/4 inch thick so it won't crumble). Bake the crust for about 6 minutes and let it cool as you make your cheesecake filling.

In a large bowl, beat the cream cheese and sugar on medium-high speed until well blended. Beat in the flour. Add in the vanilla and beat until well incorporated, scraping down the sides of the bowl as needed. Beat in the eggs one at a time, scraping down the bowl between each addition. Pour the filling into your crust.

Bake until the top is lightly browned, puffed and cracked at the edges, and the center moves only very slightly when the pan is lightly shaken (about 40 minutes). Check while baking periodically and put a pie shield (or strips of foil) around the top of your pan to protect the crust edges if they're getting too dark. Just don't let the shield/foil touch the crust — it's delicate and might crumble. When you pull the cheesecake out, you can use a sharp knife to score a circle around the top of the cheesecake about an inch inside the crust so that as it cools and chills/sinks, it won't pull the crust in too much. Don't worry if it's pretty, because you won't be able to see it in the finished product! Let cheesecake cool completely on a wire rack before chilling it in the fridge for at least 3 hours.

To make the mousse: Pour 2 1/2 tablespoons water into small saucepan. Sprinkle the gelatin evenly over the water and let it stand to soften for about 15 minutes. Meanwhile, place 7/8 cups of the clementine curd in large bowl. Stir the remaining 3/8 cup curd in another small saucepan over medium-low heat until very warm.

Stir the gelatin mixture over medium-low heat until the gelatin is dissolved and the liquid is clear (do not boil, or the gelatin may not set up your mousse anymore). Whisk the warm gelatin mixture into the 3/8 cup of warm curd. Then gradually whisk this gelatin-curd mixture into the curd in the large bowl. Let this cool slightly while you make your whipped cream.

Using an electric mixer, beat the heavy cream to stiff peaks (it helps to use a chilled bowl and whisk). Fold around 1/3 of this cream into the curd to lighten it, and then fold the rest in gently. Pour the mousse over the cheesecake and chill it to set. Top the cake with candied clementines and serve with fresh whipped cream (I whip up about a cup of cream with about 2-3 tablespoons of powdered sugar to make mine -- it's a good use for leftover cake and is lovely with the cheesecake!)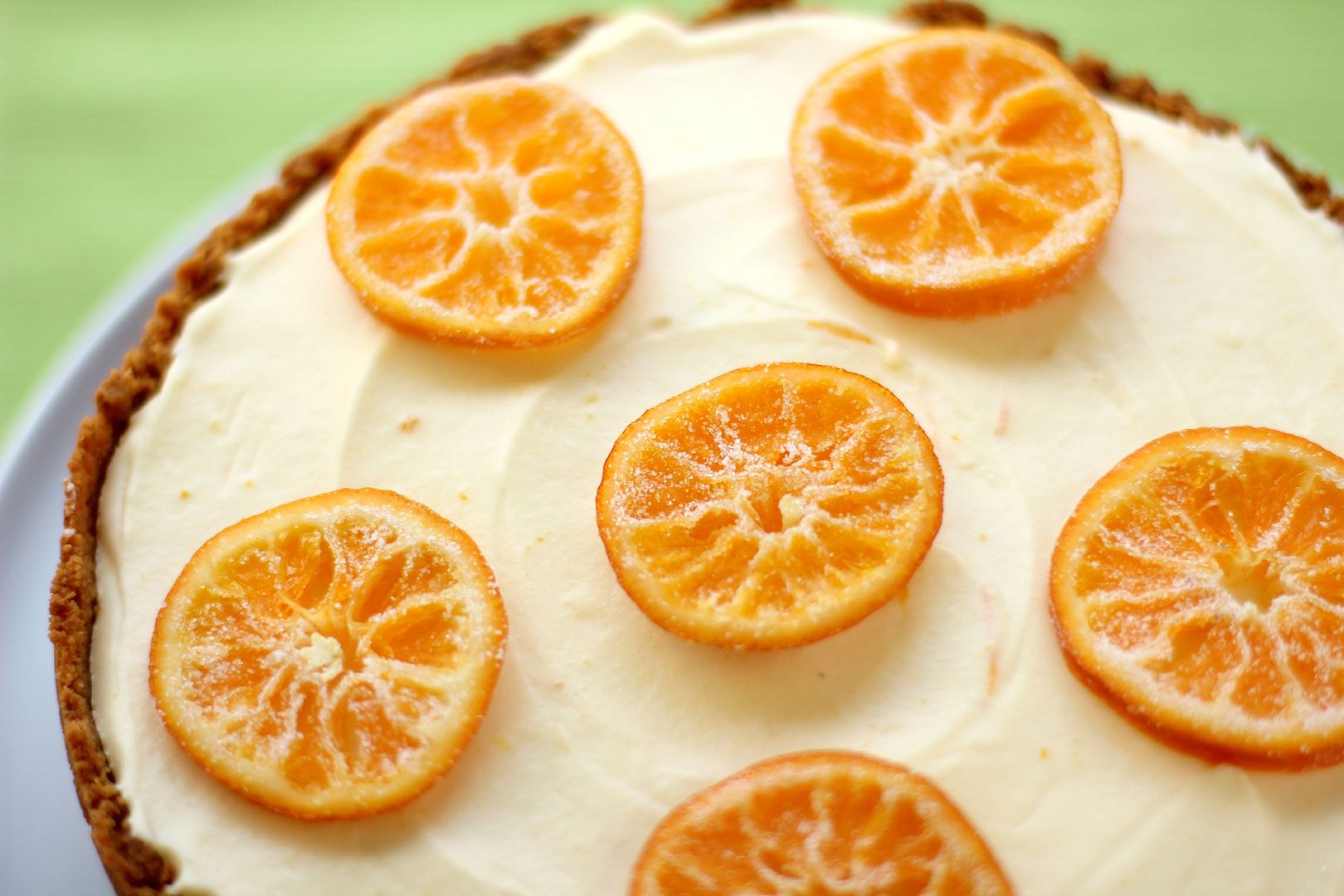 To read a Hamburger Helper love story (and share your own, 'cause I'm loving reading them!), read about what high school was like for me (and share about your own!), and see more photos of this cheesecake, please head over to Willow Bird Baking!

x-posted to food_porn, cooking, picturing_food, and bakebakebake