Easter Nest Mud Cake
I hope you all had yourselves the most fantastic Easter imaginable, filled with love, great company, and of course - chocolate.

One of my favourite excuses around Easter is the ability to bake the most indulgent desserts. And when it comes to indulging, you can't go much further than this mudcake.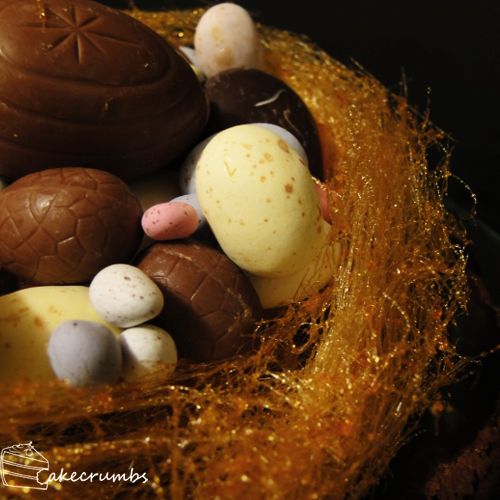 I've baked this flourless chocolate cake a few times. You've seen it for Father's Days and for Birthdays. This cake is so delicious and so loved I'm constantly looking for excuses to revisit and reinvent it.

I've done the Basket thing for Easter quite a lot, so I decided to step away from that and go for a nest instead.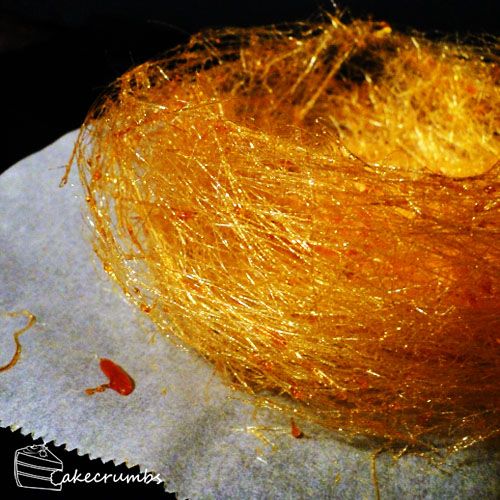 When it comes to spun sugar, or even just making toffee in general, it is what I would consider a nemesis. It never works for me and I end up tossing the contents down my sink in frustration, only to forget about the whole solidifying thing and end up spending half an hour trying to melt the contents out of my drain.

Something finally clicked last night, and not only did I manage to make it work, I made it work for long enough that I was able to get a nest out of it. Whoo!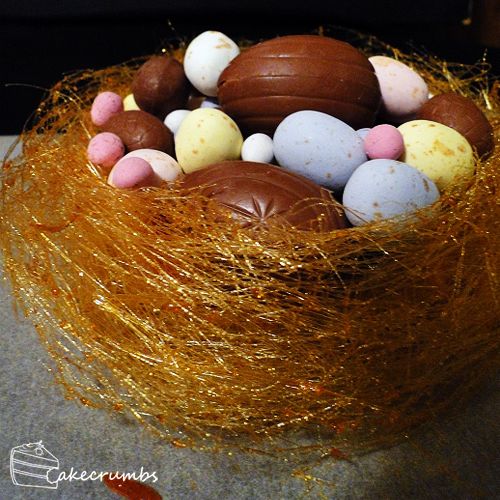 Filled the nest with eggs. Only to realise it was now too heavy to lift onto the cake and had to take them all out again!




The meringue in this cake gives the cake a lovely outer crust that is delicious, but holds no weight. So I cracked it with a spoon before drizzling on the ganache.




Cut yourself a tiny slice. You will begin by wanting to eat the entire cake by yourself. Halfway though said slice you will begin to wonder if you can ever conquer the slice on your plate. Rich does not begin to describe this cake. It is best straight out of the oven when the chocolate inside is still molten.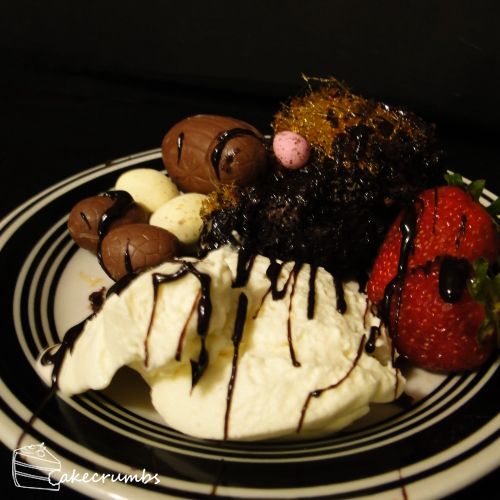 This cake is one of the messiest, most moist cakes you will ever eat. There's no being pretty and delicate about it. The only thing left to do is add cream and your favourite berries to cut through the richness and enjoy!



Flourless Chocolate Cake

Ingredients

1/3 cup (35g) cocoa powder
1/3 cup (80ml) hot water
150g dark eating chocolate
150g butter
1 1/3 cups (300g) brown sugar
1 cup (125g) almond meal
4 eggs, separated
fresh berries and cream, to serve

Method

1. Preheat oven to 160

°C/325

°F/Gas 3. Prepare 22cm cake tin


2. Combine cocoa powder and hot water; set aside
3. Combine chocolate and butter in a heatproof bowl and melt over a double boiler until melted; remove from heat; stir in cocoa mixture, sugar, almond and egg yolks
4. Beat egg whites to soft peaks; gently fold into chocolate mixture in two batches
5. Pour into prepared tin. Bake for 1 1/4 hours; stand in pan for 15 minutes before turning out [note: cake is very fragile so a springform tin or similar is ideal - just release the sides and serve on the base to avoid mess]


Chocolate Ganache
Combine 200g of dark eating chocolate chocolate with 2/3 cup (160ml) cream in small saucepan; stir over low heat until smooth; allow to cool slightly or until mixture begins to thicken.





x-posted here @ my blog