Cheddar and Herb Biscuits
Been lurking for a little while, thought I'd jump into the fray. =)
So, I was feeling like having meat for dinner last night so I cooked up some Italian sausage, but wanted something carby to go with it. I was home early after the dentist for pre-crown work, so I wasn't as tired as usual, so I thought what the heck...
Cheddar and Herb Biscuits
Source:
http://forkinit.blogspot.com/2010/09/cheddar-and-herb-biscuits.html
The only change I made was the cheese mix. I didn't have the full amount of plain sharp cheddar, so I used about half sharp and the other half was a mild cheddar/Monterey jack mix. Once the buttery topping is added, it's pretty darn close to Red Lobster's biscuits (I would die happy if I ate myself to death on those!).
And, once cold, a 10-12 second zap in the microwave and you're good to go.
My camera died before I could get a picture of them butter-topped.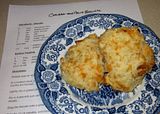 x-posted to my LJ