Chocolate Caramel Saltines with Sprinkles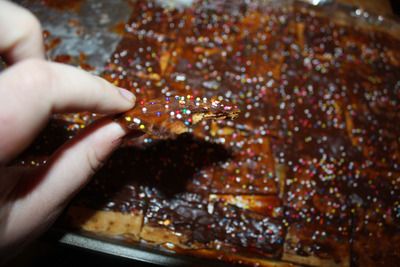 First off I just wanted to say that I really love the new layout. It's so nice and streamlined and I love it.
This recipe was interesting. The saltiness of the saltines really attributed to the caramel and chocolate - the savory and sweet combination of the crackers is addicting. And they are super easy to make.

Based on Smitten Kitchen's recipe

Ingredients
about 40 saltine crackers
1 cup unsalted butter
1 cup brown sugar
a pinch of salt
1/2 tsp vanilla extract
1 cup chopped semi-sweet baking chocolate
rainbow sprinkles

Directions

1. Line a baking sheet with aluminum foil. Place the crackers on the baking sheet.

2. Preheat the oven to 350.

3. In a pan combine the butter and brown sugar. Bring to a boil. Stir for about 3 minutes, until it starts to get thick. Add the salt and vanilla and stir into the caramel.

4. Immediately pour the caramel over the crackers.

5. Bake in the oven for 15 minutes.

6. As soon as you remove the crackers from the oven sprinkle the chocolate over the top and spread it around, as it will melt.

7. Sprinkle the rainbow sprinkles over the top.

8. Let cool until the chocolate and caramel harden.