Gooey Chocolate Skillet Cake Ice Cream Sundae
My birthday was this past weekend, and I celebrated by devouring this cake with my boyfriend. Straight out of the skillet, no fluff, no formalities. It's my favorite chocolate sheet cake recipe piled high with gooey frosting, vanilla bean ice cream, and hot caramel sauce. Haaaaappy birthday indeed!
It's super simple to make and so much bang for the buck -- I hope you'll try it out!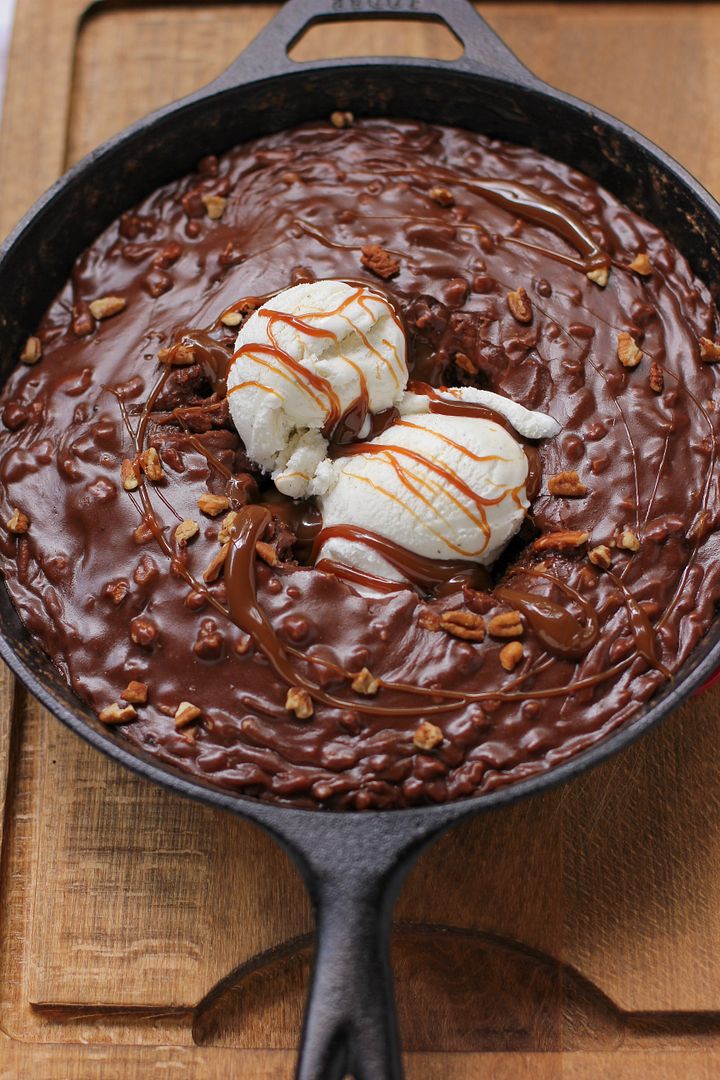 Gooey Chocolate Skillet Cake Ice Cream Sundae
---

Recipe by: Based on the ubiquitous and absolutely delicious Chocolate Sheet Cake
Yield: 4-6 servings

This was my birthday cake and I cannot tell you how much I enjoyed it! It's chocolatey and indulgent without being too rich. Eating the hot frosted cake with vanilla bean ice cream and caramel sauce straight out of the skillet has to be one of the most rewarding sensory experiences in the world. And it's so easy! It's really a must-make.

Cake Ingredients:
1 cup flour
1/2 teaspoon baking soda
1 cup sugar
dash salt
1/4 cup (1/2 stick) butter
1/4 cup vegetable oil
2 tablespoons cocoa powder
1/2 cup water
1/4 cup buttermilk
1 egg
1/2 teaspoon vanilla

Frosting Ingredients:
1/4 cup (1/2 stick) butter
2 tablespoons cocoa
3-4 tablespoons milk (as needed for consistency)
1/2 cup pecans, chopped
2 cups icing sugar
1/2 teaspoon vanilla
ice cream
caramel sauce (for serving; this one is delicious)
whipped cream (for serving)

Directions:
Preheat the oven to 350 degrees F. In a large bowl, whisk flour, baking soda, sugar, and salt together and set aside.

In a 10-inch cast iron skillet, bring the butter, vegetable oil, cocoa powder, and water to a boil. Remove it from the heat and whisk in the dry ingredients well. Mix in the buttermilk, egg, and vanilla. Bake the skillet cake at 350 degrees F for about 15-20 minutes or until a toothpick comes out with just a few moist crumbs.

While the cake starts to cool, make the frosting. In a medium saucepan, bring the butter, cocoa, and milk to a boil. Remove them from heat and add the icing sugar, nuts, and vanilla. Stir to combine. Pour over the warm cake, spread with a spatula, and serve with vanilla bean ice cream, caramel sauce, and whipped cream.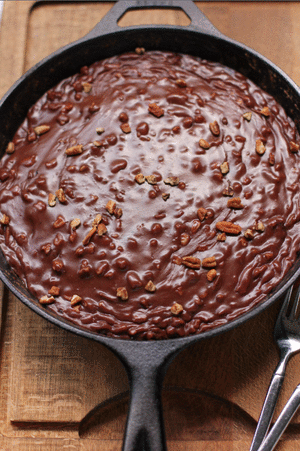 This is the last day to vote for Willow Bird Baking as SAVEUR's Best Baking and Desserts Blog if you want to. You can find the link to vote on my blog post, linked below. Many thanks!

To read about my extreme camping trip, share experiences that have changed you for the better, get the link to vote for WBB as the SAVEUR Best Baking & Dessert Blog, and see more cake photos, please head over to Willow Bird Baking!

x-posted to food_porn, cooking, picturing_food, and bakebakebake