Fitness-Friendly Cinnamon Raisin Baked Oatmeal
*alright, let's try this again, shall we:
Hi everyone! Name's Kate. I'm from Canada! (I love how international this page is, by the way--I see it predominantly has posters and readers from Australia! Awesome! I just returned from Perth. Love your country!) I also like to bake! A LOT.
I am, however, a fitness-freak. Baking treats and lifting weights generally don't go hand-in-hand so I'm always on the lookout for fitness-friendly, healthy desserts that actually taste yum. Due to the nature of my profession (I'm a circus artist), I have to keep close watch on my macro-nutrient ratios which means I can never get enough protein... so you'll see from recipes that I've tweaked, or, recipes that I've developed, I like to have a LOT of protein. :)
There are a few recipes I want to post for you guys to balance out all of the sugary, buttery desserts (which are awesome, yes...but if you bake/eat treats as much as I do and want to keep a set of gloriously chisled abs, not so much...), but since I don't really do the baking-blog thing, I have yet to take real photos of my culinary achievements in the kitchen. I did, however, take a picture of my breakfast the other day because it looked so darn yum. Mind the fact that the pic was taken by my cellphone. I promise they'll get better.
The breakfast? Baked oatmeal. But.. not your typical baked oatmeal. Baked oatmeal that is high in protein and tastes just like a cinnamon bun. This is SO yum (and surprisingly so sweet for something that is low in sugar--probably from the sweetner found in my protein powder) that I'll probably make it for dessert instead of breakfast from now on: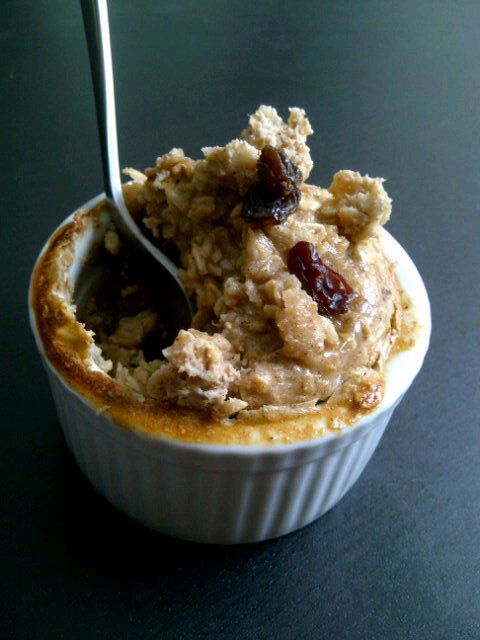 1/3 cup rolled oats (I used the extra thick kind!
1/4 cup unsweetened applesuace
1/4 cup water
1 tsp vanilla extract
1 scoop vanilla protein powder*
1 tsp 'apple pie spice blend'**
1 tbsp raisins
*I use IsoFlex Whey Protein powder.. it actually tastes good
**This is my own recipe, modified from Tosca Reno's spice blend; to make a big batch you need:
3 tbsp cinnamon
1 tbsp nutmeg
2 tsp ground ginger
2 tsp ground cardamom
1 tsp ground cloves
Preheat your oven to 375F. Grease a ramekin dish. (If you don't have a ramekin, you can use a muffin tin) Combine the oats, spice, applesauce and water. Fold the raisins in. Bake for 15 minutes, or until it's bubbling and firm. Then, at the last moment, broil for about 2-3 minutes (it gives your oatmeal a nice crust).
I usually eat it straight from the ramekin, piping hot, with a dollop of Greek yogurt on top!
If you're interested in the nutritional profile:
254Cal; 2g fat; 30g carbs; 4g fibre; 9g sugar; 31g protein.
There ya have it.