Bunny Birthday Tier
This cupcake tier was commissioned by someone to give as a gift for a friend's 21st birthday party. The brief was for fondant covered mudcake cupcakes, coloured hot pink and white with 21s and playboy bunnies. The birthday girl I was told loved all things girly.


I was provided the cupcake tier in advance for the purpose of getting the cake dimensions right, but it really helped drive the creative process, too. I started thinking about the image as a whole, rather than individual cupcakes. I used polkadot patty pans to match the tier.

I decided to alternate the cupcakes: half domed, for the lovers of buttercream, and half flat so those with less of a sweet tooth could have the option of less icing. The flat cupcakes featured the bunny logo, while the domed cupcakes had the 21s. The second and third tier also alternated in colour.


I embossed the fondant on all the cupcakes using the same design. I made the numbers and letters on the domed cupcakes stand up for something a little different. These were going to be viewed more side on, rather than top down, so it was both a quirky and functional aspect of the design. All the domed cupcakes got a collar of blossoms.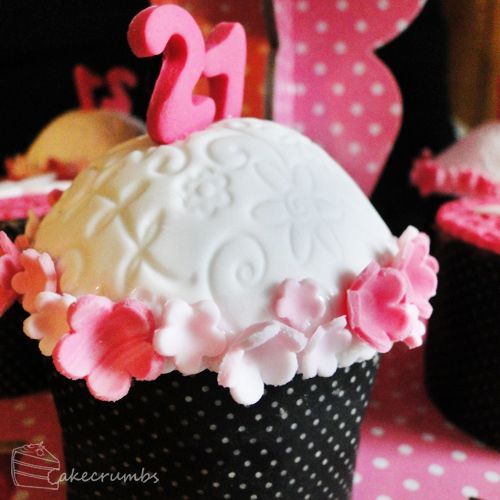 For the bunnies, I'd meant to get a custom cutter done for the order, but forgot. So I ended up cutting the bunnies by hand, hoping the symbol would still be recognisable. I gave them 3D bows, which ended up consuming more room than the 2D one on the logo usually does.




The cupcakes on the top tier were all domed and all pink, with the words "Happy 21st Birthday" atop them in the same fashion as the 21s. The top tier didn't alternate due to circular fashion of the words: I wanted it to flow.

Commissions always make me super nervous. I was fretting about it until I heard back - I was told they were an absolute hit at the party and the the birthday girl especially loved them. Cue sigh of relief!

If you'd like to see a few more pictures of these cupcakes, you'll find them at Cakecrumbs.