Happy Birthday Pupcakes
Have you guys spotted the puppy sneakily hanging around the background of a few of my dessert photos? He's usually staring me down, trying to guilt me into sharing with him.


His name is Tobias. He's a Siberian Husky and the love of my life. Last Friday he turned two years old. So in celebration, I embarked on a first: home made pet treats.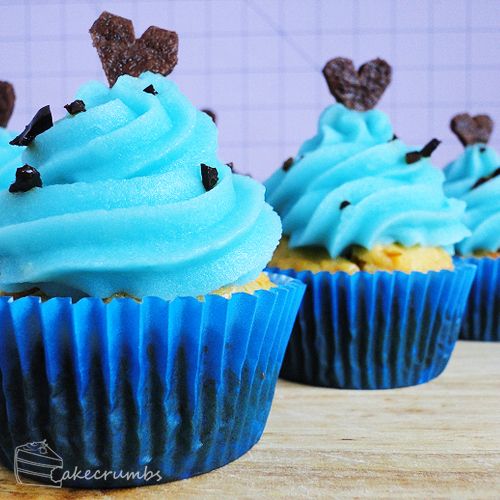 Pupcakes! Dog-friendly cupcakes.

I spent some time looking up dog-friendly recipes, but most of them were the same. So I opted for a veggie-based treat. The cupcake is essentially a carrot cake, minus the butter and sugar. Instead they have a little peanut butter and honey, and some bits of chopped up schmackos folded through.




A lot of the recipes I saw suggested using peanut butter, cream cheese or cottage cheese to ice the cakes. I don't like the idea of giving dogs that much dairy in general, but Tobias especially has a low-tolerance for dairy (evidenced by the time he discovered the Easter egg stash while we were out, and another time when he stole a massive hunk of cheese. Aftermath was not pretty).

So I decided to make the icing out of mashed potato. Tobias loves mashed taters and it was the only thing I had on hand that was white and dog-friendly. I knew mashed taters pipe well as I've done so for things like Shepherds Pie before, so I had high hopes.

It came out looking nicer than some batches of buttercream I have made.
Rather than adding milk, butter and salt, I added a little water to thin out the consistency and tinted it blue. I decorated them with hearts cut from schmackos treats and sprinkled it with finely chopped dried liver treats: his favourites.


We took the birthday treats outside. Tobias has a habit of throwing around treats he likes and I didn't like the thought of mashed potato all over my house.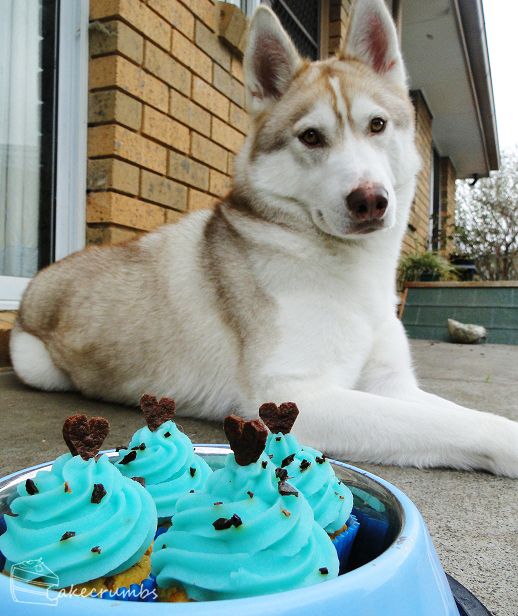 Tobias patiently waiting for the command to eat. Or at least pretending to be patient while thinking, "Stop taking photos and let me have them."

He sat on the porch pretending not to care, until I said "eat it". At those two words he bolted over to the pupcake and ate the schmackos-heart. But even puppy knows the icing is for last. He flipped it over and began eating the cake bit first.




Nom. He loved them so much that the moment it was finished he started running in circles around the BBQ where the rest were sitting, hoping for a second.

Well, it is his birthday after all, how could I say no?


Here's the recipe if you'd like to treat your canine friend to some pupcakes. This recipe makes 6 standard pupcakes.


Birthday Pupcakes
Ingredients
1/2 cup self-raising flour
1/8 cup peanut butter
1/8 cup vegetable oil
1/2 cup shredded carrot (skin on)
1/2 tsp vanilla essence
1/8 cup honey
1 egg
schmackos or your dog's favourite treat, cut into small pieces

Icing
1 large potato
2 tbsp water
1-2 drops liquid food colouring
dog treats, to decorate
Method
Preheat oven to 180°C (160°C fan-forced), line 6-hole cupcake tin with patty pans
Combine all ingredients into a bowl and mix until thoroughly combined
Spoon into patty pans and bake for 20 minutes, or until cooked through
Allow to cool for 5 minutes in the tin, then transfer to a wire rack to cool.
For the icing
Peel and cut potato into medium sized chunks. Put potato into a pot of cold water and place over high heat. Boil until tender (usually around 30 minutes - test with a knife). Mash potatoes; add water to thin it out and use electric beaters to beat until creamy. You can adjust the amount of water until you get the desired consistency. Add food colouring if desired and beat through. Allow potatoes to cool before piping onto the cake. Garnish with dog treats if desired.
Head over to the original post @ Cakecrumbs for some gushing over the birthday boy, complete with puppy photos and a video from his birthday.