Crunchy Peanut Butter and Sea Salt Biscuits
These cookies came from Belinda Jeffrey's "Mix and Bake". I baked these for the 23rd week of my cook book challenge. There were so many things I wanted to bake in that book, but with a cake and dessert already in the house, anything more extravagant was going to be wasteful. Besides, these cookies sounded so yum.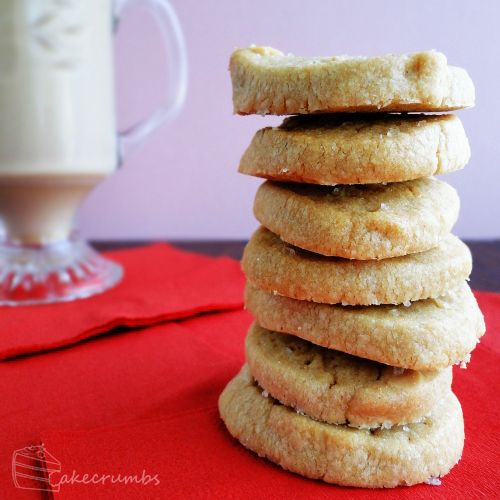 My boyfriend loves any baked good with peanut butter in it. He still raves on about the various peanut butter slices I've done, and the cookies are always a hit. But this is a bit of a new take on them.

They ended up tasting almost exactly like eating salted peanuts, just in a cookie form. I baked one roll of dough and left two 'emergency rolls' in the freezer. I baked one of them last night after posting these to my blog and actually found the dough easier to cut straight out of the freezer. At fridge temp, they smooshed a little and weren't so pretty.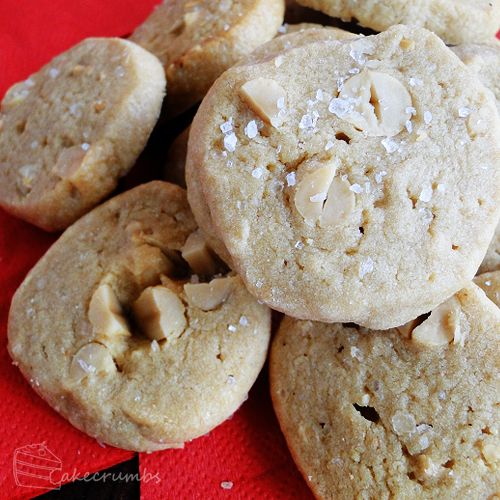 If you have a food processor, this recipe is a cake walk. I only have a mini one that's powered by a stick blender, so when it came to adding the flour I just mixed it it. In lieu of either, you could cream the wet ingredients with an electric mixer and then fold in the flour as I did.



Crunchy Peanut Butter and Sea Salt Biscuits

Ingredients

2 cups (300g) plain flour
1/8 teaspoon baking powder
1/2 teaspoon salt
180g unsalted butter, cool but not cold, cut into chunks
1/3 cup (75g) caster sugar

1/3 cup (75 g) firmly packed brown sugar
1 teaspoon vanilla extract
1 egg
110g crunchy peanut butter
1/3 cup (50g) salted peanuts
sea salt flakes, for topping

Method
Put the flour, baking powder and salt into a food processor and whiz them together for about 10 seconds so they're well combined. Tip them out into a bowl.
Put butter and both sugars into the food processor. Whiz them for 40 seconds, stopping and scraping down the sides once or twice with a rubber spatula, until they're light and creamy. Add the vanilla extract and egg and whiz them in for 10 seconds; the mixture may look a bit curdled, but it will be fine once the flour is added. Scrape the peanut butter into the egg mixture and whiz the machine briefly again so it mixes in. Add the flour mixture to the processor and mix it in with on/off pulses, until it just forms a thick, soft dough. (Don't overdo the mixing in of the flour or the biscuits will be a tad tough.)
Add the peanuts to the dough and stir them in with a spatula (you might find this easier if you tip the dough into a bowl and work the nuts in by hand, as it's always a bit awkward in the processor). Scrape the dough out onto a chopping board and divide it in half.
Lay a large sheet of foil on a bench and cover it with a sheet of baking paper. Gently knead one piece of the dough briefly to bring together, then roll it into a log about 5 cm in diameter. Sit the log on one edge of the baking paper and roll it up in the paper. Next, roll it so it's wrapped in foil. Twist the ends of the foil tightly in opposite directions so you end up with something that looks like a bon bon. Repeat with remaining dough.
If you're baking the biscuits on the same day, chill the logs for 2-3 hours in the fridge until they're firm enough to slice. Or, at this stage, you can freeze the logs until you need them (they keep well in the freezer for about 5 weeks; just defrost them in the fridge before slicing them).
Preheat oven to 150°C. Line some baking trays with baking paper. Unwrap the log (or logs) and cut into slices 6-7mm thick. Sit the rounds, about 2cm apart, on the prepared baking trays. Gently sprinkle a little salt onto each one; I'd go fairly lightly on the salt the first time you make them, and then when you've tried them once you can adjust the amount.
Bake, in batches if necessary, for 20-25 minutes or until the biscuits are light golden brown and feel crisp to the touch. If your oven cooks unevenly, turn the trays back to front and swap the shelves half way through the baking time. Remove trays from the oven and leave to cool completely on them. Store in an airtight container for 5-6 days or freeze them for up to 2 weeks, and defrost at room temperature before serving.



For more about the book these are from, check out the original post over at Cakecrumbs.