Apple Puddings with Butterscotch Sauce
This apple pudding was one I baked for another week of my cook book chalenge. This one came from Donna Hay's "Seasons". It's definitely pretty high on my Favourite Desserts list now.


Butterscotch sauce is enough of a draw card for me, but these apple puddings just look so lovely and elegant. I love the way the pieces of apple curl back like little petals.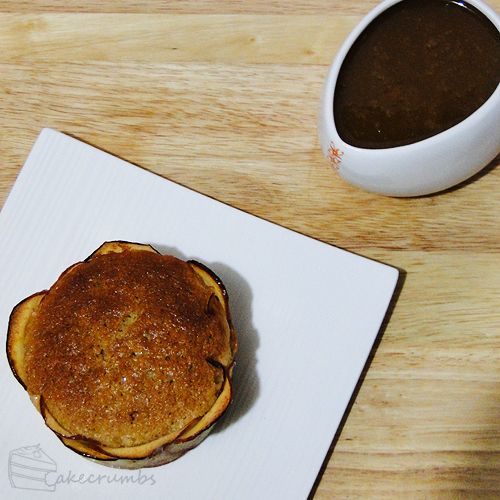 I'd never made butterscotch sauce before, and after this I am definitely going to have to make it much more often. It's not only so easy, it's so delicious. Combined with this pudding, it's perfection.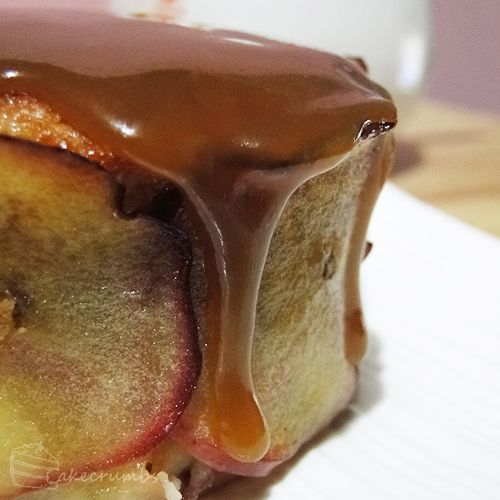 The cakes are so light and fluffy and delicious. I love the caramel flavour the brown sugar lends to them. But they definitely need this sauce. Alone I imaging they'd become too dry and dull after a few mouthfuls, but with this sauce it's hard to stop.




There were only two of us for dessert this night, so at first I decided to halve the recipe. Then I had a brain fade and added a full quantity of sugar, so I had no choice but to make a full batch. I regret nothing. I did two puddings in the 1 cup-capacity dishes called for in the recipe and put the leftovers into a cupcake tin for noms the following night.


The puddings definitely look better if you don't peel the apples as the recipe suggests, but they won't soften during baking as the rest of the apples do. If you don't like the chewy texture of the baked skin and don't care about aesthetics, feel free to peel the apples first.
Apple Puddings with Butterscotch Sauce
Ingredients
2 red apples, thinly slice
1 1/2 tablespoons caster sugar
20g butter, melted
125g butter, softened, extra
1 cup (175) brown sugar
2 eggs
1 cup (150g) self-raising flour, sifted
1/2 cup (60g) almond meal
1/4 cup (60ml) milk

Butterscotch Sauce
1 1/2 cups (375ml) single (pouring) cream
50g butter
1 cup (175g) brown sugar
Method
Preheat oven to 180°C (160°C fan forced). Place the apple, caster sugar and butter in a bowl and toss to coat. Line 6x1 cup-capacity (250ml) oven proof cups with apple
Place extra butter and brown sugar into the bowl of an electric mixer and beat for 8-10 minutes or until light and creamy. Gradually add the eggs, beating well after each addition. Fold in the flour and almond meal and stir in the milk. Spoon the mixture into the cups and place on a baking tray. Bake for 30-35 minutes or until cooked when tested with a skewer.
To make butterscotch sauce, place the cream, butter and sugar in a small saucepan over medium heat and stir until the sugar is dissolved. Bring to the boil and cook for 5-7 minutes or until slightly thickened.
Turn the puddings out onto serving plates and serve with butterscotch sauce.



If you'd like to see more photos of these, the mini-puddings, or hear more about the book this is from, or download the printable version of this recipe, check out the post @ Cakecrumbs.