PB Filled Rainbow Sugar Cookies
Yes, you read that right.
One of my coworkers mentioned seeing a recipe for this (I can't find the link though!) and said I should make them and bring them in. I love baking and I love fun, bright colors - how could I say no?!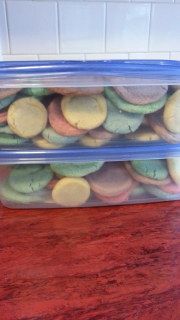 PB Cookies
1 cup creamy peanut butter
1/2 cup sugar
1/4 cup flour
1 egg
Combine all ingredients until batter is thick and a little crumbly. Roll into approx. 48 balls (I doubled the recipe and got like 82 or something like that). Put them on a plate or a cookie sheet and chill in the refrigerator while you do the next steps.
Sugar Cookies
2 3/4 c. flour
1 tsp baking soda
1/2 tsp baking powder
1 c (2 sticks) butter
1 1/2 c. sugar
1 egg
1 tsp vanilla
Combine all ingredients. Batter will be thick and hard to stir (you might have to use your hands). Once combined, divide batter into balls that are even in size. (I did 1.5x the recipe and got 6 balls). Add different colors of food coloring to each ball. Knead each smaller ball of dough to combine the food coloring (I did 6 drops of each color). Make sure you wash your hands in between each different color so that the colors don't get mixed.
Get your PB balls from the fridge. Starting with one ball of sugar cookie dough, tear off a small amount and press it flat in your palm, forming about a 2 inch circle (should cover the flat part of your palm). Place a PB ball in the middle and cover it with the sugar cookie. Roll into a ball. Roll in sugar.
Place each ball onto a greased cookie sheet, about 2 inches apart. The balls are definitely going to expand, so make sure you leave enough room. Bake at 375°F for 7 minutes. Pull the cookie sheet out of the oven and gently tap each one with the bottom of a glass to flatten. Let cool for a few minutes on the cookie sheet, then transfer to a wire rack to cool completely.
Dough balls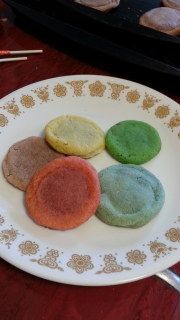 Finished product
These are SO good! They are crunchy on the edges, soft and chewy on the inside. The peanut butter taste is definitely noticeable, but compliments the sugar cookie perfectly. I only had the standard food colors/shades, but next time, I would definitely use neon or something unexpected. I like that you can totally customize them, so they're perfect for holiday parties or any other themed event. I have made a LOT of cookies and these are probably one of the funnest cookies I've ever made. I would definitely suggest making these with any children you have in your life. TOTALLY excited to bring these to work on Monday!