Roasted Winter Vegetables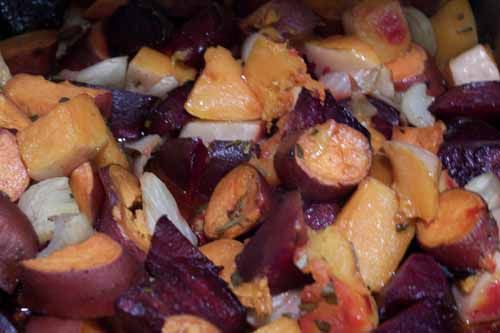 For Thanksgiving this year I made a delicious vegetable dish. It's so easy and versatile. You can use a variety of vegetables and spices for this. The yams, squash, beets, and fennel were perfect for Thanksgiving.
Ingredients
3 beets
1/2 butternut squash
4 yams
1 fennel root
2 tbsp sage, chopped
1 tbsp rosemary, chopped
1 tbsp olive oil
Directions
1. Preheat your oven to 400. Chop all the vegetables into cube sized pieces. Combine in a baking dish.
2. Add the olive oil, sage, and rosemary to the roasted vegetables. Toss with your hands.
3. Place in the preheated oven for about an hour and a half, until soft. Check every half hour and stir.
* serves about 14
You can read more about my Thanksgiving dinner
here
.