Bacon, Olive and Almond Filled Chicken
Cutting pockets into chicken fillets is something I have avoided like it was the devil. Every time I saw it in the method of a recipe I'd exclaim, "Nope!" and turn the page. I was sure I'd make a right mess of the meat and end up with filling all over my oven.
For Week 33 of my cook book challenge, I decided it was high time I challenged myself to give it a go.
Turns out I'd been avoiding this for nothing. It's really not as hard as it seems. While my cut wasn't perfectly symmetrical, it was functional. If, like me, you've never tried this before, this filling is a good one to start with. It doesn't become runny, so the chances of it seeping out of minor holes are slim.




And more to the point, it was totally delicious. Olive and almonds are amongst my favourite things, and who can say no to a little bacon as well? The recipe recommends serving it with broccolini and pumpkin. I had neither on hand, so I served it instead with corn on the cob and some snow peas. It made for a really refreshing meal.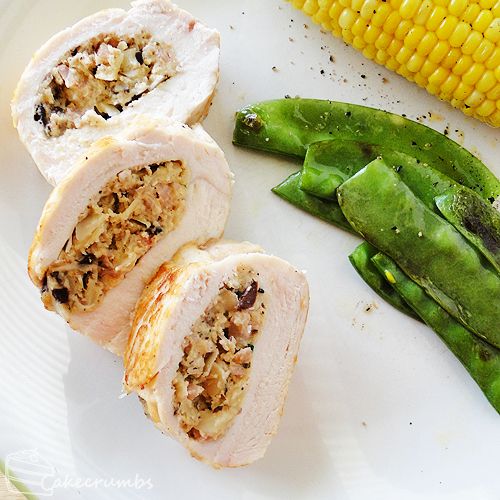 This recipe serves 4. There were two of us for dinner and so I froze half of the filling to use for another time. You can easily adjust the quantities if you have more or less people to feed.

When cutting a pocket into the chicken, if you're loosing track of exactly where the knife is, feel for it between your fingers. You'll be able to feel the knife as it moves and control it a lot better. As you get towards the thinner end of the breast, it's easiest to cut it while feeling for where the blade is. It will help you avoid cutting through to the exterior.

The one method change I made to this recipe was in making the sauce. I used the white wine to deglaze the pan the chicken is initially sealed in, then added the stock, brought it to the boil then reduced to a simmer. I felt this would help get a little more flavour into the sauce than their method, but either way is fine.


Here's the recipe:




Bacon, Olive and Almond Filled Chicken

Ingredients

125g cream cheese, crumbled
50g short cut rindless bacon, chopped
1/3 cup fresh breadcrumbs
1/4 cup pitted Kalamata olives, chopped
1/4 slivered almonds, roughly chopped
1 egg
1 tbsp chopped oregano
salt and pepper, to taste
4 chicken breast fillets
1 tablespoon oil
3/4 cup white wine
3/4 cup chicken stock
1 tsp cornflour, blended with 1 tbsp water
roasted pumpkin and steamed broccolini, to serve

Method
Combine the cream cheese, bacon, breadcrumbs, olives, almonds, egg, oregano and seasonings in a bowl. Carefully cut a pocket in each chicken fillet. Divide the filling evenly between the chicken fillets and press in firmly, secure with toothpicks.
Heat the oil in a large non-stick frypan, add the chicken and cook 3-4 minutes each side until browned. Remove and place in a greased baking dish. Cover and bake in a moderate oven (180°C) for 15-20 minutes until cooked through. Allow to rest for 5 minutes.
Add the wine and stock to the frypan and simmer until reduced by a third, add the blended cornflour and any juices from the roasting pan, continue stirring til thickened. Slice the chicken and place on serving plates, spoon over the sauce and serve with pumpkin and broccolini. Serve immediately.

To grab the printable version of this recipe or hear a little of the book this recipe comes from, check out the original post @ Cakecrumbs.