Key Lime Pie Cheesecake
My friend Steven loves key lime, so I made a creamy, plain cheesecake with a tangy, traditional key lime pie custard on top. The whole thing sits in a graham cracker crust and is topped with a huge traditional meringue. I had to prove I could do a meringue after, ahem,
previous mishaps
. This Key Lime Pie Cheesecake is definitely on the tangy side, so you may want to cut down on the key lime juice if you like a sweeter pie, but it struck the perfect note to me.
If you don't want to make a meringue (or if you're making this on a humid day, when meringues typically don't fare well), feel free to top this pretty cheesecake with freshly whipped cream.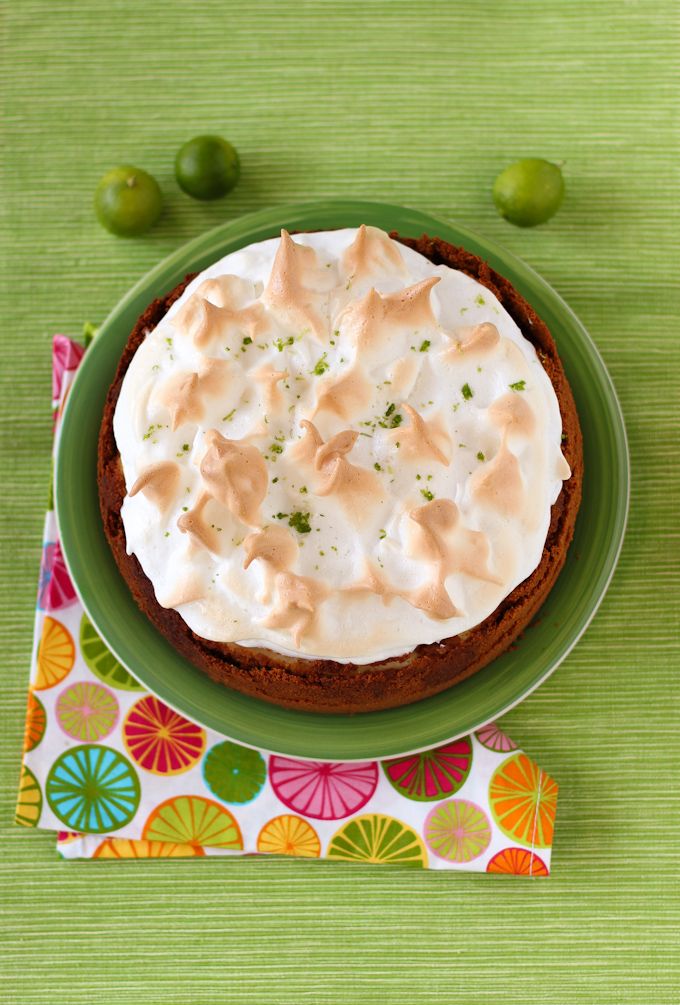 Key Lime Pie Cheesecake with Sky-High Meringue
---

Recipe by: Willow Bird Baking, using Nellie & Joe's Key Lime Pie filling recipe and this meringue.
Yield: 10 servings

Cheesecake Ingredients:
2 1/2 cups graham cracker crumbs
7 tablespoons unsalted butter
3 (8 ounce) packages cream cheese, at room temperature
1 cup granulated sugar
1 1/2 tablespoons all-purpose flour
2 teaspoons vanilla extract
3 large eggs

Key Lime Pie Ingredients:
1 (14-ounce) can sweetened condensed milk
3 egg yolks (save the whites for the meringue)
1/2 cup of key lime juice (about 20 key limes)
1 tablespoon grated lime zest (for decorating)
lime slices (for decorating)

Meringue Ingredients:
1/2 cup water
2 tablespoons white sugar
1 tablespoon cornstarch
3 egg whites
1/4 teaspoon cream of tartar
1 pinch salt
1/2 teaspoon vanilla extract
6 tablespoons white sugar

Directions:
Notes: Cheesecakes are simple and super customizable. New to cheesecake making? Watch my 6 minute Cheesecake Video Tutorial for visual assistance! This recipe can be divided up over several days — you can make the cheesecake one day, the key lime layer the next, and the meringue on the day you're ready to serve. Try to start a few days early, because the key lime layer's flavor is perfect after chilling for a couple of days.

Make the cheesecake: Preheat the oven to 350 degrees F. Lightly grease a springform cheesecake pan. Combine the graham cracker crumbs and melted butter in a small bowl. Toss with a fork to moisten all of the crumbs. Using a flat-sided glass, press into an even layer covering the bottom and sides of your cheesecake pan (you want it to be tall — try to get to about 2.5-3 inches high). Freeze the crust until the filling is ready.

In a large bowl, beat the cream cheese and sugar on medium-high speed until well blended. Beat in the flour. Add in the vanilla and beat until well incorporated, scraping down the sides of the bowl as needed. Beat in the eggs one at a time, scraping down the bowl between each addition. Pour the filling into your crust very carefully, smoothing the top out.

Bake until the center moves only very slightly when the pan is lightly shaken (about 45 minutes). Check while baking periodically and put a pie shield (or strips of foil) around the top of your pan to protect the crust edges if they're getting too dark. Just don't let the shield/foil touch the crust — it's delicate and might crumble. When you pull the cheesecake out, you can use a sharp knife to score a circle around the top of the cheesecake about an inch inside the crust so that as it cools and chills/sinks, it won't pull the crust in too much. Don't worry if it's pretty, because you won't be able to see it in the finished product! Let cheesecake cool on a wire rack while you prepare key lime filling. Keep oven preheated.

To make the key lime pie filling: Blend together the milk, egg yolks, and lime juice until smooth before pouring the filling onto your cheesecake. Bake at 350 degrees F for about 15 minutes, keeping the crust shielded with foil. Let cool for about 10 minutes before chilling the cheesecake overnight -- or two if you have the time; the flavor really matures and mellows with time. I left mine tented with foil instead of covered tightly with plastic wrap to avoid condensation that would affect the meringue.

Make meringue topping: Preheat oven to 350 degrees F. Stir water, 2 tablespoons sugar, and cornstarch over low heat in a saucepan for around 10 minutes, stirring constantly. Remove from the heat and set aside.

In the very clean bowl of an electric stand mixer (I honestly wouldn't attempt a meringue with a hand mixer), combine egg whites, cream of tartar, and salt. Whisk until mixture is foamy. Add vanilla and then gradually add the 6 tablespoons of sugar while whisking on medium-high speed. When the egg whites have soft peaks, very gradually drizzle in the cornstarch mixture (while still beating). Turn the mixer to high and beat the meringue to stiff peaks. The meringue should hold clear, firm peaks when you lift it with a spoon or with the whisk.

Very gently pile it onto your cheesecake, spreading it to the sides to seal it to the crust. Take a big glob of meringue and touch it to the top of the meringue on your cheesecake and pull away to form a "spike." Continue doing this all around the top of the cake. Brown the meringue in the preheated oven. Sprinkle the cake with lime zest. You can also use thin slices of lime to garnish the cake. Serve the day you make the meringue for best results, or store tented in the fridge for no more than 1-2 days (the meringue will fall slightly with each day, but mine held up quite well!)









To read about what feet have to do with this cheesecake (now I bet you're worried), what my yoga teacher has to do with Jesus (now you might be more worried), and see more photos, please head over to Willow Bird Baking!

x-posted to food_porn, picturing_food, bakebakebake, cooking