Strawberry Lemonade Cheesecake Bars with a Shortbread Crust
These bars are a version of one of my
dad's favorite desserts
, Lemon Blueberry Cheesecake Bars, and they are so creamy and delicious. This summery version includes a little extra lemon tang, big fresh strawberries, and a buttery shortbread crust. They're also super easy to whip up, making them one of my favorite summertime treats. I hope you enjoy them.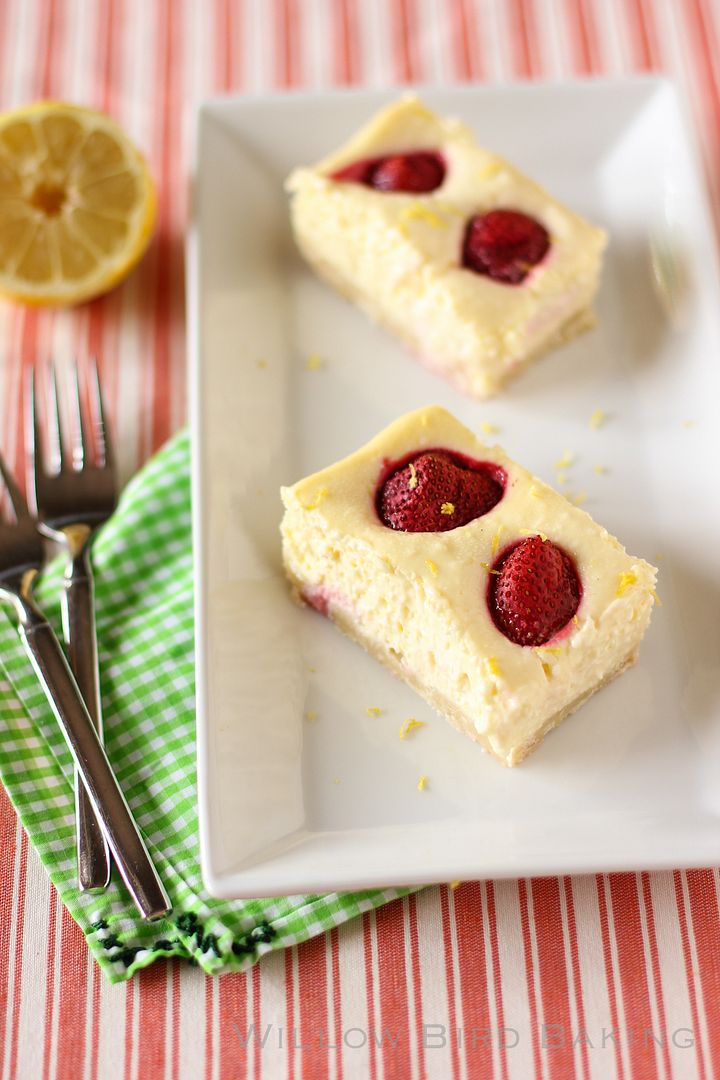 Strawberry Lemonade Cheesecake Bars with a Shortbread Crust
---

Recipe by: Adapted from King Arthur Flour (crust) and Shared Sugar (cheesecake)
Yields: about 18 bars

These cheesecake bars are the perfect summer treat: sweet, creamy, tangy, buttery, and easy to prepare!

Crust Ingredients:
1 cup (2 sticks) butter
2 cups all-purpose flour
1/2 cup confectioners' sugar

Cheesecake Layer Ingredients:
32 ounces cream cheese, at room temperature
4 eggs
5-6 tablespoons lemon juice, depending on how tart you usually like your lemonade!
lemon zest from one lemon
1 cup sugar
strawberries, quartered*
powdered sugar for topping
*Note: I probably bought 2 pints of strawberries but didn't quite use them all. I didn't quarter mine because I thought they'd be pretty whole, but they were a bit hard to eat and I'll quarter them next time I make this recipe!

Directions:
Preheat your oven to 350°F. Prepare a 9 x 13 in. baking dish with a parchment paper sling. Cut the butter into the flour and confectioners' sugar and press into the baking dish (I used a food processor to cut the fat into the flour, and then the bottom of a dish to press the mixture into the pan). Bake 20 minutes or until light brown. Let cool on wire rack.

In a bowl with an electric mixer, add the cream cheese, eggs, lemon juice, lemon zest, and sugar. Mix until the ingredients are creamy and the cream cheese is fully incorporated. Pour into the pan with the cooled crust. Then evenly distribute the strawberries.

Bake 30-35 minutes or until filling is set. Remove from the oven and cool completely. Then refrigerate for at least 3 hours. Remove the cheesecake from the pan using the parchment paper. Cut into bars and sprinkle with powdered sugar.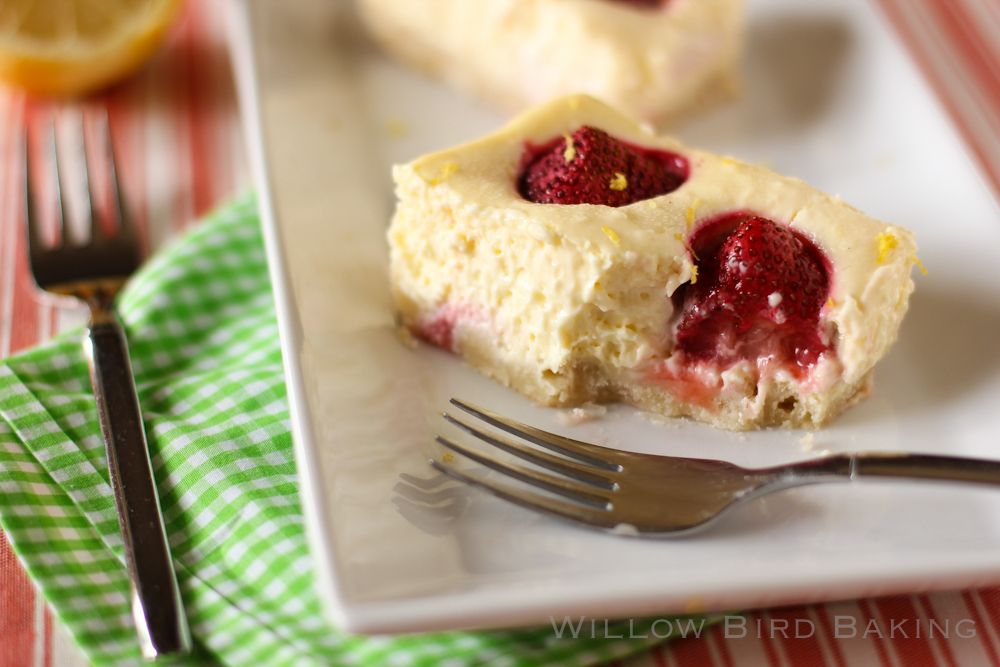 To read my reflections on prayer, read about "keeping the plane up" syndrome, and see more photos, please head over to Willow Bird Baking!

x-posted to food_porn, picturing_food, cooking, bakebakebake